Powered by 25% greater energy return from a revolutionary Graphene-enhanced foam that lasts for longer, the TRAILFLY ULTRA G 300 MAX pioneers a new way for deeply cushioned ultra running shoes – adapting, reacting and gripping to the trail like no other.
G-FLY Graphene-enhanced cushioned foam gives 25% greater energy return and is scientifically proven to retain its optimum powers or performance for longer. 
Graphene-enhanced rubber delivers the world's toughest grip – insane sticky traction AND increased durability, no compromise.
A revolutionary 10mm deep ADAPTER-FLEX groove allows you to adapt, react and grip the terrain like never before.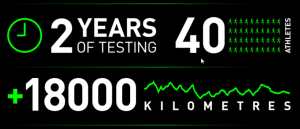 Read more
www.inov-8.com/trailfly-ultra-g-300-max-reviews
Defy the limits of your long run.