THE FIRST 10 YEARS OF INOV-8, THEIR STORY
When we began collecting these stories to share an insight into inov-8's ten-year history with you, I hoped they would reflect my vision for the company through the eyes of some of the people who helped me build our brand. As I flick through the pages today, I feel immense pride at what I read.
These stories reflect the passion, commitment and dedication that have allowed us to challenge the giants of our industry. They also highlight the entrepreneurial flair and creative problem-solving abilities we ooze in our relentless quest for innovation. These stories reaffirm my belief that we have empowered a team that lives and breathes the values inov-8 stands for.
I am confident that our obsession for making the best product possible to optimise end user performance is instilled deep within our brand DNA. I know our operations team will remain agile and flexible as the business continues its fast-paced growth. I'm also certain that our athletes and ambassadors will continue to use inov-8 products to push the boundaries of their performance and raise the brand's reputation to new heights.
I would like to take this opportunity to thank not just those mentioned in this book, but the many others who have helped shape the brand into what it is today, be they athletes, partners or members of the inov-8 team.
To all of you I say a heartfelt thank you. I struggle to put into words how proud I am of what we have achieved together and can only imagine the heights we can reach in the years to come.
Founder
Wayne Edy
1 IN THE BEGINNING
"I'm not a follower, I never will be. I like to carve a new way. I thrive to innovate."
Right from day one, inov-8 founder, Wayne Edy, has been clear in his thinking.
And while much has changed in the past ten years, Wayne's ethos remains at the very core of a sports manufacturing business that started from humble beginnings in the UK and has gone on to trade in more than sixty countries around the world.
Back in 2003, Zimbabwe-born Wayne, a former consultant in the outdoor industry, launched inov-8.
Based in County Durham, Wayne had spotted a gap in the off-road running shoe market and, despite being warned against it, took a gamble on filling it.
He recalls: "Walsh dominated the market, but I felt there was room for a more modern, forward-thinking brand.
"I spoke to contacts, some of whom said, 'You're crazy even going there.'
"It didn't put me off and I launched inov-8, not just as a fell running brand but as a mountain running brand that I wanted to go worldwide with.
"I'd worked hard on developing the first shoe, the mudroc, which later became known as the mudroc 290, and ordered a first container to bring 2,500 pairs over from China.
"Friends said I was mad ordering that many shoes but I believed in my product and I went for it.
"At the time I had just rebuilt an old house in Stanhope and converted a double-story coach house out the back. I used the coach house as a base, making the downstairs into a warehouse and the upstairs into an office.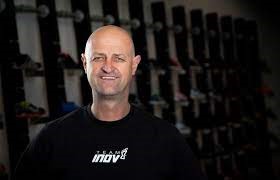 "I employed a designer in Graham Jordison, and it was actually on his birthday – June 11th – that we launched.
"We air-freighted in some samples of the mudroc 290 and, with those samples in hand, began on the selling campaign.
"I think I rang about eighty retailers in two days. Those I got a warmer feel from, I sent a shoe, along with a presentation package on the brand.
"Admittedly, inov-8 was not my preferred option as a brand name in the beginning. I had wanted to call the brand mudroc but lawyers said it was too close to an American climbing brand. I agreed, and instead decided on Inoveight, which was the name of my consultancy company, before introducing the hyphen to make inov-8.
"The logo also took a bit of time to sort but we got it right. That's shown in the fact that it has not changed since.
"It was a really busy time but great fun. Every week Graham would set me a target of how many retailers I had to try and get. I would do everything in my power to achieve the target.
"Things went well, so much so that, just two months after launching, I ordered another container of shoes to be shipped over."
Away from the coach house, Wayne also spent many hours on the road, telling anyone who would listen, be it retailers or runners, the inov-8 story.
He became a regular at high-profile mountain running races across the UK, and later in Europe, pulling up in his distinctive 4×4 pickup truck jam-packed with shoes.
"I would tell people the story about why inov-8 was different, how the foot should control the shoe, not the other way round, and about footwear being lightweight (in this case 290g) while optimising maximum grip," says Wayne.
"I told that same story over and over again.
"The reaction was good. I remember at one event in the Lake District when six, possibly more, runners bought shoes and wore them there and then to do a two-day mountain marathon.
"Some of the runners came to find me after the race and said how brilliant the shoes were.
"It snowballed from there, with runners spreading the inov-8 story by word of mouth."
Buoyed by the success of the mudroc 290, which was named 2003 product of the year by renowned UK magazine Runner's World, Wayne and Graham began developing three more shoes to meet the needs of off-road athletes.
"We knew we couldn't be a one-shoe brand, so we developed a racing version of the mudroc, the 280, and trail running shoes, the flyroc 310 and the terroc 330," recalls Wayne.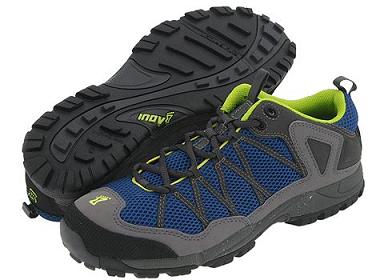 Flyroc 310
"For the racing mudroc, we introduced a new sticky rubber sole.
"I spent a lot of time working on that compound and narrowed it down to five for extensive testing, both in the field and laboratory.
"I remember one guy in the laboratory saying that the compound we chose was the stickiest rubber he had ever tested. That was great to hear."
Back in County Durham, inov-8 moved premises to a 180-year-old church hall in the small market town of Wolsingham, but not before a hiccup that threatened to leave the company homeless.
"A week or two before we were due to move into the church, the council said they had forgotten to tell us that we had to advertise for a change of use – and it would take a minimum six weeks," says Wayne.
"I'd already sold the original premises with the coach house but, fortunately, I also had a rented house in Wolsingham which had just been vacated.
"We operated from the sitting room and piled boxes of shoes up everywhere. Each model of shoe – the mudroc, flyroc and terroc – had its own room. We shipped about 1,400 pairs that month in the house before we moved into the church."
Utilising the outbuilding of Wolsingham Methodist Church, Wayne and his small team built a warehouse, which was connected to an office through the old Sunday school.
It became inov-8's home until the summer of 2007 when the company moved to its current premises in nearby Crook. Throughout those early days inov-8 carved a new way of thinking that caught rival brands on their heels. Wayne, however, was only just getting started.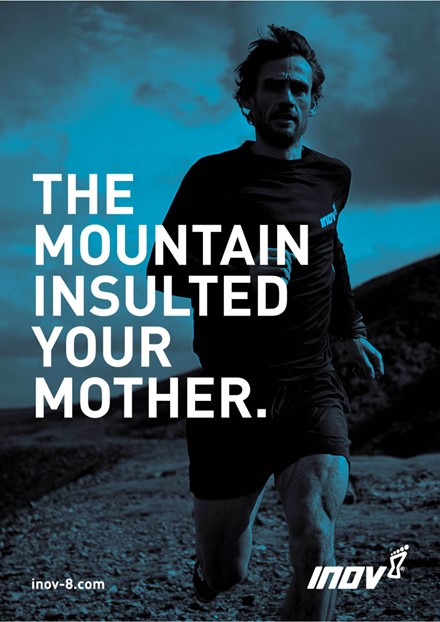 2 LANDING A FIRST RETAILER
It started ten years ago, with a bacon sandwich and a cup of coffee in Kendal's Union Jack café.
What it led to not only provided inov-8 with a crucial launch pad, but also forged a key relationship which still stands strong a decade on.
With a prototype of the mudroc 290 in his hand, inov-8 founder, Wayne Edy, went to meet Pete Bland with the aim of bagging his new company its first retailer.
A major player on the UK fell running scene, Pete Bland Sports, based on the edge of the Lake District, was the one Wayne wanted. And he got it.
At the time the market leader in fell running shoes was Walsh, for whom Pete Bland Sports was a distributor.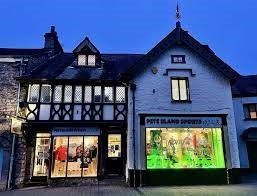 Pete, a legendary fell runner and the man who designed the Walsh PB shoe, recalls: "It was all about Walsh – until inov-8 came along that is.
"I remember meeting Wayne and him bringing in that first mudroc 290 prototype. It was alright, as I told Wayne at the time. It wasn't what I would have designed but Wayne had his own ideas, and you have to admire him for that.
"The market was ripe for innovation and Wayne came in at exactly the right time."
Also in the café that day was Pete's son, Matt, who now runs the Pete Bland Sports business. He adds: "To be honest, we really bought into the man, Wayne, as opposed to the shoe.
"The shoe was good and a halfway house that catered for fell as well as trail runners, but neither me nor my dad were blown away by it.
"What we loved was Wayne, and his enthusiasm and belief in the brand.
"Wayne knew he had to have us on board to have a fighting chance, particularly with the first few shoes he was going to do.
"If we, as Walsh distributors, were going to sell inov-8 product then Wayne knew other retailers would quickly follow suit.
"We initially took between fifty and sixty pairs of mudroc 290s, which was a pretty big commitment. We ended up selling in the hundreds, and that despite the early models ripping people's heels to bits.
"By placing the shoe heel so low, the idea was that it would not put pressure on the Achilles' tendon. In theory it was right, on the first version it was put so low, that on some runners it actually dug into the heel.
"It is no mean feat that inov-8 survived that. Others brands would not have done."
In the early days of the relationship, Wayne joined Pete and Matt at high-profile off-road races and helped sell inov-8 product from their big red van.
Pete recalls: "We spent a lot of time at events with Wayne in those early days.
"Every time someone picked up the mudroc 290, Wayne was hovering nearby. He would talk to the customers about inov-8, tell them his ideas and, more often than not, they bought into that. He was a fantastic talker and salesman.
"If we ran out of shoes in a certain size on the van, Wayne would dash back to his 4×4, dig out more stock, and give us a little bit of paper by way of an invoice. It was real grassroots stuff, but it worked."
Since those early days, Pete Bland Sports have gone on to sell almost all inov-8 products, and for 2013 stocked over fourty shoe models, including every off-road style.
Among Pete and Matt's favourites over the last ten years have been the flyroc, roclite and mudclaw ranges, the latter of which remains their best seller of any brand.
The pair were also heavily involved in the 2008 creation of the x-talon 212, which has since gone on to achieve massive global success and become inov-8's signature off-road shoe.
Matt says: "Wayne would bring the samples back from China and we would get athletes to test them.
"We probably gave feedback on four or five samples of the x-talon 212 and worked closely with Wayne on it.
"To be honest, we were a bit sceptical. We probably wanted a mudclaw sole on an x-talon upper, but Wayne was driven by wanting to go lightweight and, as he often is, was proved right.
"He produced a key shoe that has never looked back since."
Pete adds: "The x-talon 212, like other inov-8 shoes, is one people come back for time and time again. Repeat customers often don't even try them on they are that happy with them.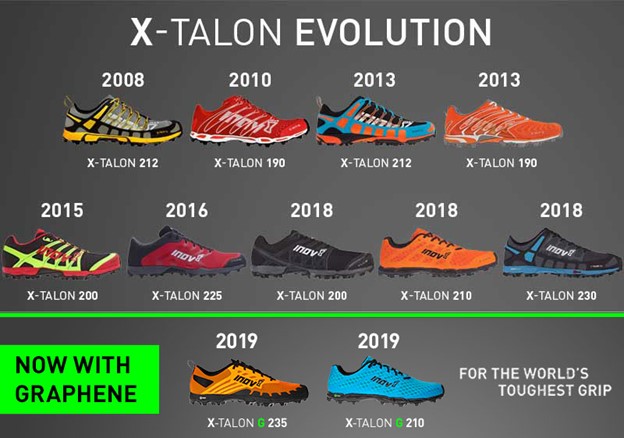 "Others buy them the morning of a race then go straight out and compete in them.
"That's the beauty of inov-8 shoes, you can wear them straight out of the box."
As anticipated, after Pete Bland Sports committed to selling inov-8 shoes other retailers across the UK followed.
One of those was Ellis Brigham, which has a store in the shopping and tourist hotspot of Covent Garden, in central London.
Des Rhule, the store's charismatic outdoor department manager, has formed a particularly strong bond with inov-8, using the product to compete in ultra running events and then relaying those stories onto customers.
"I've worn inov-8 shoes to do the (103-mile) Ultra-Trail du Mont Blanc four times since 2005," says Des.
"Last year I wore the trailroc 245s. They were brilliant and gripped unbelievably well.
"I've also won cross country races in inov-8 shoes when rivals were wearing spikes – that's how good the grip is.
"We get a lot of customers speaking very highly of inov-8 and their excellence on even the most difficult of terrains.
"It's a company to be proud of. It's British, only 10 years old, and a real success story."

3 THE REAL MELISSA MOON STORY
Call it luck, call it good fortune, call it what you like, but the story of Melissa Moon is one that will forever remain firmly etched in inov-8 history.
By borrowing a pair of inov-8's first shoes, the mudroc 290, and then wearing them that same day to win the 2003 World Mountain Running Trophy, the New Zealand athlete propelled the brand to prominence.
And for a company that at the time was only three months old, it was as inov-8 founder Wayne Edy recalls, "A dream story for a new shoe brand".
While Wayne was in the UK working tirelessly to promote his new brand and first shoe, on the other side of the world in Gridwood, Alaska, and unbeknown to him, a stranger was about to provide inov-8 with the type of publicity money can't buy.
Melissa recalls: "I arrived in Alaska to train over Mount Alyeska about eight days before the competition so I could get to know every inch of the course.
"It hadn't snowed during the summer in Alaska for 15 years and, during those eight days, the weather was beautiful.
"My coach of 10 years, John Davies, (an Olympic 1,500m bronze medallist in 1964) sadly passed away six weeks prior to the world championships and his last words to me were, 'Melissa, in Alaska, expect the unexpected'.
"I held onto those words every day during my preparation and then, on race day, the unexpected did happen – I awoke to find the course covered in snow!
"In fact there was so much snow at the top of course that there was talk about changing it, as organisers feared it may be too dangerous.
"I had been training the course, which had been dry every day, in racing flats. I knew, however, that I now needed a pair of racing shoes with more grip.
"Unfortunately I didn't have any with me!
"As we gathered in the hotel awaiting our call to the warm-up area I began scanning the feet of the junior women's race finishers, looking for a size seven pair of high-gripping shoes.
"I then looked down to see what my fellow runners in the senior women's race were wearing. I spotted a pair worn by an English runner (Lou Roberts) and asked to see the sole. She said they were a new pair of inov-8 shoes. The grip looked perfect.
"Just one hour before the race, luck came my way, when I was told the English team had a spare pair of inov-8 shoes I could borrow.
"I put them on, went straight out into the snow and knew instantly that I was there to win this race.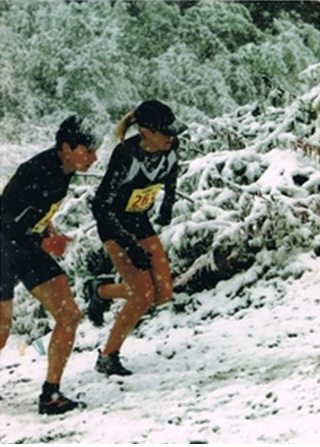 "I was always a confident runner but those shoes just sealed the deal."
Melissa won the 7.7km race, which included 600m of ascent, in a time of 39:02, comfortably ahead of Scottish duo Angela Mudge (39:41), whom she sped past on the steep descent, and Tracey Brindley (39:59).
Wayne says: "The English team was leaving for Alaska when I took a phone call from one of the female runners (Lou Roberts).
"She said she had heard we had launched a shoe and asked if I could sort her a pair. She then added that she was leaving the next day!
"I said if she went to Pete Bland Sports in Kendal on the way to the airport that I would arrange for a pair to be put aside for her.
"She did just that, and at the time I thought, end of story. Not so. The next thing I knew I was getting phone calls from the US, from people enquiring about our shoe.
"It turned out Melissa had borrowed a pair of mudrocs to win the senior women's race.
"She then held the shoes up in the air and explained to everyone about how they had helped her win the race, which was of course fantastic exposure for the brand.
"Even though Melissa was sponsored by Adidas, after that she was always a great ambassador for inov-8.
"I used to send her shoes and she would always talk highly about them and use them for mountain races.
"When I went out to New Zealand a few years later, I made sure I met her. We had a good, long chat and she told me how the whole story had played out in Alaska.
"I still look back on it now and can't quite believe it. What were the chances of that happening?
"It's a dream story for a new shoe brand."
In the years that followed, Melissa wore inov-8 shoes in several high-profile mountain races and still today owns a couple of pairs.
Now aged 43, she is a star of the Vertical World Circuit – a series of races up the planet's tallest and most iconic buildings. Last year Melissa was the fastest female to scale the Empire State Building's 1,576 steps in a time of 12 minutes and 39 seconds.
And that triumph in Alaska wasn't the only international success for inov-8 and the mudroc in its maiden year.
In Wales, home countryman, Tim Davies wore the shoe to win the prestigious 2003 Snowdon Race in 1:05:57, ahead of English rivals Simon Bailey (1:06:41) and Ian Holmes (1:07:11).
Wayne recalls: "I had previously given Tim some mudroc 290s and, as I set up a little table on which I was going to sell products at the event, Tim looked over and gave me a knowing thumbs-up.
"He looked confident, and rightly so. He won the race by almost a minute, wearing a pair of mudrocs.
"The race was in July, just one month after the company was born, so it was superb exposure.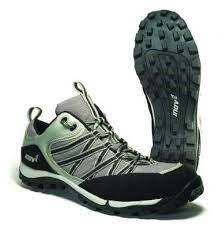 MUDROC 290
4 EUROPEAN EXPANSION
Inov-8's first-ever and longest serving distributor, Koos Rademaker, admits he initially turned down the company following a phonecall from founder, Wayne Edy.
Already planning to drop two off-road running brands from his range, Koos was sceptical about bringing inov-8 to the Netherlands, Belgium and Luxembourg.
However, the perseverance of Wayne helped seal the deal on a relationship with Rademaker Sports that has now stood strong for almost a decade.
Koos recalls: "It was August 2003 when Wayne contacted me by phone and asked if I was the person who sold fell running shoes in several countries.
"He said he had just launched a new technical off-road shoe brand and wanted to know if I was interested.
"Since there are no hills, fells or severe winters in the Netherlands, we had found that the two brands already in the range were not selling well. In fact, we were planning to drop both brands, so I told Wayne we were not interested.
"But the man on the phone line persevered. He advised me to look at the website and have a short meeting with him when I next sailed to the UK.
"When I looked at the website, I realized this might be something different and special.
"Some months later Wayne and I had a meeting at a Holiday Inn, near Newcastle.
"Once back in Holland I convinced my wife, the other director, that we should take inov-8 on board.
"Another meeting with Wayne followed and soon after that we started.
At the time, inov-8 was still in its relative infancy. But following the success in the UK of the company's first shoe, the mudroc 290, Wayne was eager to cast his net further afield.
Koos says: "It was June 2004 when we received four images of the inov-8 range, sent to us by Graham Jordison.
"Later, he and Wayne proudly showed me their base in the UK – an unheated church in Wolsingham, where hundreds of cardboard coloured inov-8 shoeboxes were piled high and parcels were being preparing to go to UK retailers.
"Our first order was only two pairs of both the flyroc 310 and terroc 330 but that expanded to 19 pairs for the second order.
"After that we continued to beat our annual figures.
"In 2005, it came as big shock when more than six new styles arrived. We had no idea where these were meant for or whom to sell them to.
"But step by step we learnt how to sell shoes to all kinds of highly demanding runners."
Today, inov-8 trades across all corners of the globe – a success story Koos believes has been made possible by Wayne's philosophy from the outset.
"He has always sought to innovate and succeeded in inspiring people with his products and enthusiasm," says Koos, who has recorded great sales of inov-8's functional fitness products in recent years.
"By not just focusing on the home market, like many UK companies do, Wayne and inov-8 have also recognised the whole world as their market.
"As the first inov-8 distributor, we speak on behalf of many other distributors when saying we are very grateful to earn our living working with such a great range of products."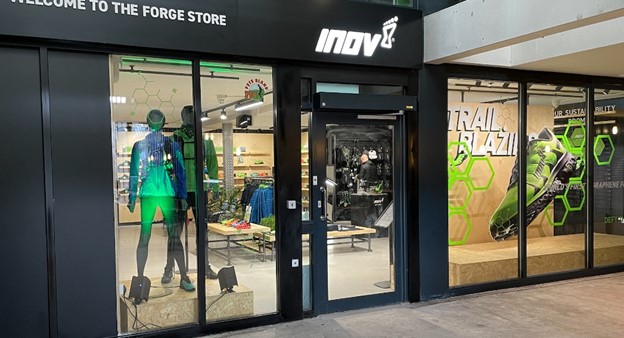 5 INNOVATION IN DESIGN
Graham Jordison beams with pride when talking about his favourite subject – inov-8.
As the man who has designed countless shoes for the company over the past ten years, he is still obsessed – to the point of checking trails and mud for inov-8 footprints.
"Even after ten years I still feel just as proud when I see people wearing our shoes," says Graham, who was inov-8 founder, Wayne Edy's, first recruit back in 2003.
"I remember the first time I ever saw our product out on the mountain. I was on Helvellyn in the Lake District and I saw a guy in a pair of mudrocs.
"It was hard not to go over and say, 'I designed that.'
"I've never done that, by the way!
"Whenever I'm out I'm always looking at people's feet or at footprints in the tracks, seeing who is wearing which product. I'm always looking for inov-8s, or signs of them. I suppose it's a bit sad to do that, but I'm just proud of what we do and what we have achieved."
Now based in the US, having moved there from the UK in 2009, Graham, who shares his birthday with the day the company was born (June 11th), is driven by innovation – such as inov-8's pioneering of the arrow system, which encourages runners to transition towards natural running through the use of minimalist footwear. Graham works tirelessly on designing shoes that are unique and push boundaries.
He says: "For me, the best designs usually come when the pressure is on. A lot of the product that is still out there in the market, unchanged after several years, I sketched out the concepts for in like an hour or two.
"Doing quick sketches when you have an idea, that is the kind of thing that helps you innovate.
"The evoskin is an example of that. Even though it is a product that never really took off because it is very niche, it was an innovative design done quickly following a chat Wayne and I had in an airport.
"I remember the ideas were flowing and it got a bit wild in terms of how we might market it. We talked about it being like a condom for the foot and selling it from vending machines with a working title of 4-skin! Protection without losing sensation I believe the line was. That one didn't quite reach a climax!
"Wayne and I have always worked brilliantly together and that long-standing connection, as well as our shared passion for inov-8, has seen us turn around product very fast.
"Considering the importance of them, I think my proudest designs are either the x-talon 212 or the mudclaw 270.
"In terms of the mudclaw, I still maintain to this day that it is the best gripping outsole on the market, without the use of a spike.
"The x-talon 212, meanwhile, embodies the very DNA of the brand – the function, the lightness, the low profile sole unit and the fully randed upper that provides durability and protection.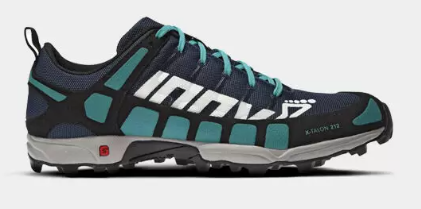 X-TALON 212
"We worked really hard on the x-talon 212, listening to feedback and addressing issues raised from previous shoes to take things to the next level. It has been a big success story."
After graduating from the same Northumbria University design course as chief Apple designer Jony Ive, Graham, who had previously done some freelance work for Wayne, joined his friend in launching inov-8.
Recalling his memories of those early days, Graham says: "We set ourselves up in a coach house out the back of Wayne's house.
"The bottom floor was filled with our first product – the mudroc 290 – and it was just Wayne and I upstairs.
"I did the design work but also the developing of the workbook and trade stands, as well warehousing, customer service and invoicing.
"Each week I would set Wayne a target, challenging him to get a certain number of accounts. We would celebrate when we reached the targets.
"It was grassroots stuff but things moved fast, aided by awards and positive reviews in magazines."
He adds: "I remember going to London with Wayne to get an award from Runner's World for the mudroc 280.
"It was a big event and, when we got there, we saw that a mudroc 280 shoe had been encased in a huge block of ice.
"Some guys from another brand were looking at the mudroc saying, 'I can't believe that has won an award, there is nothing to it'.
"I stood there thinking, 'That's the point!' Others over-engineered shoes back then, but we knew simpler was better. And that proved to be the case with other brands adopting the minimalist mindset we see today.
"Anyway, in celebration, I ended up getting drunk on champagne and tried to pick up the big block of ice. The security staff were not impressed and I almost got kicked out!
"We would also take Wayne's 4×4, packed full of shoes, to events in the early days and promote the brand.
"I remember going to a mountain marathon and sleeping in the 4×4. It was absolutely freezing and wet. It felt like we were actually taking part in the mountain marathon itself! Our presence, however, was key in promoting the brand at grassroots level.
"We'd also pack full the 4×4 and a trailer for trade shows, like OutDoor in Friedrichshafen, Germany, the original stand for which I designed using steel tubing, components and banners from local sources. The simplicity of the modular system still has a strong presence in our stands today – though the stand has grown a little!
"We drove through the night into Europe quite a lot back then, each taking two hours at the wheel while the other slept.
"Things like that show how far we have come as a company and what you can achieve on very little.
"We were punching above our weight – and winning."
Since his arrival in the US in 2009, Graham has seen inov-8's sales rocket on that side of the Atlantic.
He says: "I moved because my wife, Janine, lives here and I was fortunate inov-8 were able to facilitate that.
"It actually allowed me to get stuck into the US market, which holds huge potential for the brand, and also get into the mindset of trail running here, since it is very different to that of Europe, especially the UK.
"The functional fitness scene has, of course, been massive for us here and we have a number of boxes close to the office which we use to test products and explore the requirements of the end user."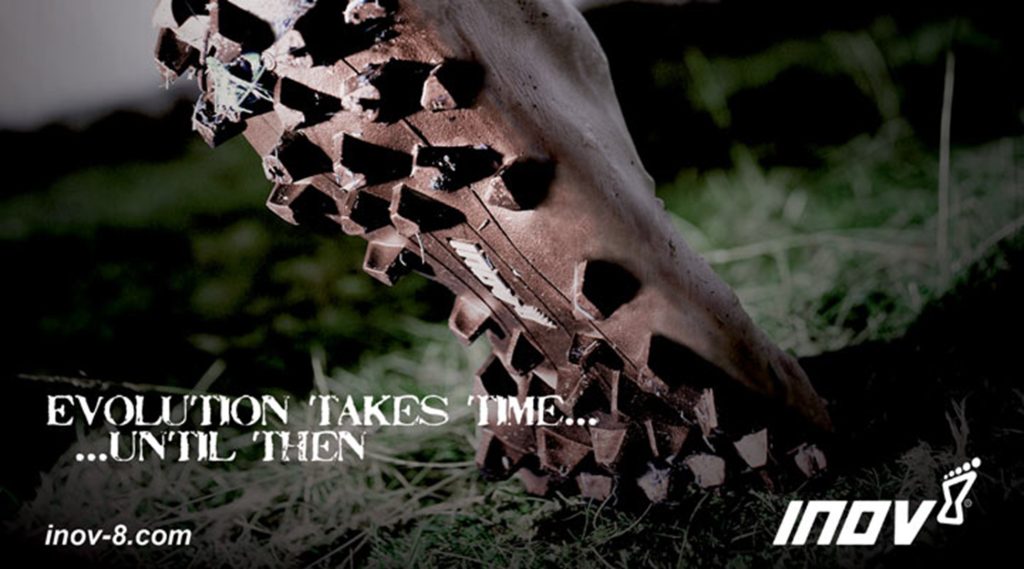 6 LIVING THE BRAND
Such was his desire to be part of the inov-8 team, Matt Brown once sneaked out of a County Durham college for a full fortnight to work in the warehouse.
While confused tutors tried to locate his whereabouts, Matt, who had decided to take his stipulated work experience earlier than college pals, was picking shoe orders for a company he desperately wanted a career with.
Six years on, Matt is a pivotal wheel in the inov-8 cog, not only as a designer but also as the Staveley office go-to man – be that answering staff queries on product or ripping out a reception desk to make room for a bike rack.
Still only 23 years old, Matt remains as passionate as ever about the brand. Just look at his van… and the inov-8 logos plastered all over it!
Matt was actually still at school when he first discovered inov-8, through his skateboarding friend, and company founder Wayne Edy's son, Ryan.
He recalls: "I remember going to see Ryan in Stanhope and going out back where he had a double-story coach house. I walked in and there was shoes, mudroc 290s, stacked high everywhere.
"Graham (Jordison) was there too, designing on paper all the crazy ideas Wayne was coming up with.
"Soon after that I got a pair of mudroc 290s. I used to take the foot beds out and mold the heels by steaming them over the kettle. I have dodgy heels anyway, but they used to kill me.
"I only raced cross country in them because, more than anything, I liked Wayne and I liked the brand. I didn't wear anything else until the roclite 285 and f-lite 250 came out. Those shoes blew me away.
"By the time I started helping out with Ryan in the warehouse, I was at college and inov-8 was based in the old church at Wolsingham.
"I'd pick orders, make the tea and tidy the office. The team was still only very small, with six of us there, including me.
"One memory that stands out was when I took my two weeks work experience from college to work solidly for a fortnight at inov-8. College had said we all had to do work experience – I just didn't tell them when I was doing it. They thought I'd disappeared!"
When the inov-8 operation upped sticks and moved to Crook, it was Matt who volunteered to help Wayne at weekends. He says: "We'd build shelves, unload boxes and put shoes on the shelves. Thinking back now, it seems strange doing that with the founder.
"I dropped out of college (in 2007) to join the company full-time, working in the warehouse. Ryan and a few others sometimes helped out but often I was in there on my own. I didn't mind.
"Sonny (Wilkinson) then came in for an interview. I remember it well because his aftershave lingered around the warehouse for ages afterwards. It was overpowering, but he still got the job!
"With Sonny also in the warehouse that freed me up to start doing some customer service work in the office alongside Nichola Leach, who had been part of the team that moved over from the old church.
"The first time I did anything design-wise was when I was asked to do a flyer for the sale we used to have at the warehouse on the last Friday of every month.
"Having done a bit of graphic design stuff and photography previously, it was a job I enjoyed. "Soon after that Graham asked if I wanted to start designing the adverts.
"That meant a move to the upstairs office, alongside Wayne, Graham and Jonny (Jonathan Emerson, the current IT manager who joined the company in 2005 and is the third longest serving member of the team).
"We used to call them the 'golden boys' because they had an office and computers. Now I was one of them.
"Graham moved to the US and I started helping him more by doing the graphic design work.
"Wayne kept asking me to design some shoes but they never really came to anything. Until, a bit out of the blue, one design I had done for the roclite 295 was chosen and developed to produce the new trailroc range.
"I also put in the brief for the trailroc range the idea of using three different rubbers on the sole – an idea I picked up from bike tyres, but don't tell anyone! From that the Tri-C compound was born."
Hardcore bike rider Matt, who two years ago cycled from Crook to the OutDoor trade show in Germany, was also part of the original team that first took occupancy in inov-8's Staveley-based creative hub.
He says: "Wayne and Robert (Perkins, inov-8 CEO) asked if I fancied moving to the Lakes. I didn't really have to think about it. I just said okay."
Matt has since taken on the role of designing all inov-8 packs and accessories. The SS14 range, which is set to include the exciting new race ultra products, is the first designed entirely by Matt.

7 BUILDING THE BUSINESS
No-one ever got fired for buying IBM the conventional wisdom goes, but conventional wisdom doesn't break molds, innovation does.
And it is such bravery to go against the norm that resulted in Jonathan Emerson writing a homegrown internal software system for inov-8, when others would have not dared to.
Fresh out of the University of Liverpool with a degree in e-business to his name, Jonathan joined inov-8 in 2005, and today remains the third longest serving current team member after Wayne Edy and Graham Jordison.
Then based in the church at Wolsingham, Jonathan and Wayne worked closely on creating a homegrown ERP (enterprise resource planning) and CRM (customer relationship management) software system – now known as B2B (business to business) – that would give staff, distributors and retailers online access to a wealth of functions and information aimed at improving and supporting the future growth of the business.
Jonathan says: "When I first started at inov-8 I would work in the warehouse in the mornings then concentrate on IT in the afternoons.
"There were just four shoes in the range and all invoices were done on simple spreadsheets, with lots of opportunity for human error!
"Wayne and I then began setting up what became B2B, a system which everyone, including the US team who migrated over a few years ago, now uses.
"I put a lot of hard work into B2B. Some days colleagues would struggle to get much out of me because I was, as they say, 'In the zone.'
"I'm very proud of what we achieved with B2B. We developed a system that has helped the growth of the business from one shoe in the UK to shipping hundreds of models to over 60 countries.
"I've also been heavily involved in the development of the inov-8.com website, of which there have been four incarnations so far with more developments coming all the time.
Wayne adds: "In the early stages I decided we needed to write our own software.
"Jonny took on the job and wrote the B2B system. He taught himself as he wrote it, really.
"I'm very proud of what we achieved with B2B. It's become a really sophisticated global analysis tool over the years, which is amazing considering it is homegrown.
"Others would be afraid to write a system, we were not. We were bold and brave."
Jonathan now heads a team of three alongside Max Lyne and Andrew Boyes in the inov-8 IT department, based at Crook, in County Durham.
The premises at Crook also boasts a three-unit warehouse, staffed by six full-time employees.
The longest serving of that half dozen is Sonny Wilkinson, the warehouse manager, who has been with the company for five years.
"I sometimes can't believe how much it has changed in that space of time," says Sonny, an excellent mountain bike rider who often helps in the testing of new packs.
"When I first started in the warehouse we had just one unit. There were three of us working in there but when Mark (Howarth) left and Matt (Brown) started doing more in the office, I began running the whole warehouse on my own.
"Others would help when we had containers that needed emptying but for much of the time I was on my own.
"Nowadays there are six of us working flat out. The number of containers we empty and shoes we pick is way more than it used to be.
"The way we work is also different. Five years ago I would be in and out of the downstairs office all day, collecting picking orders and shipping labels.
"Now we have three computers in the warehouse itself, the order picking lists are on B2B and can be prioritised. It is far more efficient and allows us to work quicker."
As well as lots of hard work there is, as in most warehouses, plenty of banter at the Crook premises, with most of the lads either school friends or football team-mates.
Outside of work that banter is taken to a new level, especially, it seems, when the team – including inov-8 founder Wayne – have hit the go-kart track!
"We all went go-karting last year and it got competitive," says Sonny.
"It was a good laugh, especially the final. I was in the lead and was messing about, doing a bit of celebratory fist pumping. All of sudden Wayne came up behind and tried to take me out! Everyone was loving it. Wayne is really, really competitive – but I still won!"
Much like the warehouse team, the customer service department at Crook has grown in staff numbers to deal with the increased workload that the company's success has brought.
Led by Nichola Leach, who joined inov-8 in 2007, the team is now four-strong and works tirelessly meeting the needs of customers, retailers and distributors across the EMEA (Europe, the Middle East and Africa).
For Nichola, it has been a proud six-year journey. She says: "When I started six years ago there were only eight members of staff, including me, in total and we were based in the old church in Wolsingham.
"Shortly afterwards, three members of the team left for new challenges and I was thrown in at the deep end, which meant looking after all accounts in the UK and around the world. We didn't have as many as we do now, of course, but this soon changed.
"I have seen many changes as the company has grown over the last six years, so much so that less than twelve months ago we expanded our Crook offices as we could not fit all the staff in. We now have a dedicated customer service office.
"I've been lucky enough to attend award ceremonies and brand conferences, the latter allowing me to meet our distributors in person, something which is essential in my role.
"I feel I have definitely come a long way within the company."

8 BREAKING INTO THE US
There have been many risks taken during inov-8's decade to date, but perhaps none more so than in 2004 when the company first entered the US market.
Eager to start selling shoes on the other side of the Atlantic, UK-based founder Wayne Edy struck a distribution deal with Lisa and Thomas Mikkelsen, a husband and wife from Massachusetts, without having met them in person.
It was a gamble for all parties involved, but one Lisa remains thankful was taken.
She recalls: "Thomas started ultra running and did reviews about inov-8 shoes.
"He exchanged emails with Wayne, before one Friday night we got a phone call. It was Wayne. He wanted Thomas to help him get inov-8 into the US.
"Thomas, who is a software engineer, replied, 'You don't want me, you want my wife!'
"My previous employment experiences meant I was better suited, so I talked to Wayne.
"I found him a very gut-feel kind of guy, really in tune. I liked what he said.
"Between the three of us we agreed to partner on the distribution of the company in the US – even though we had never met.
"It was a big risk but it just felt right.
"We finally did meet in August 2004, when Wayne came over to launch the brand here.
"Having already invested, set up a warehouse and ordered a first container of shoes, it was great to talk to Wayne in person and find a man who shared our passion and energy.
"The original warehouse was a big open room but, because we didn't want to spend too much money, we arranged to take a smaller section. A line was sprayed on the floor to indicate what was ours.
"My aim was to have a first retailer before the container hit a month later, which I did.
"I then got a girlfriend of mine to help unload all 2,500 pairs of shoes off the container. By the time we were done we had boxes stacked high all around my office table. You couldn't see me!
"We had four styles – the mudroc 290 and 280, the flyroc 310 and the terroc 330 – but found the first year tough.
"Winning the TrailRunner magazine editor's choice award with the flyroc 310 helped, but it was too expensive to go to a lot of trade shows and we didn't have a lot of money for advertising.
"Also, with not many people doing mountain running in the US, those types of shoes were proving too fringy for retailers in a market in which Montrail were huge at the time.
"We took our hits in those early years. Things were pretty lean and we didn't get the revenue we wanted."
Salvation came in 2009 when the f-lite shoe, which had been designed as a racing flat for hard-packed mountains and trails, was discovered by a niche US community who were pushing their bodies to the extreme in intense functional fitness workouts.
These committed athletes took the f-lite to their hearts and sales rocketed.
Lisa played her part in the initial turnaround of inov-8's fortunes in the US and has gone on to achieve success in the sport herself.
An outstanding swimmer, triathlete and runner, Lisa wore her favourite inov-8 shoes – the road-x lite 155 – to win the 45-49 year old masters title in the biggest functional fitness arena of all, the prestigious CrossFit Games in 2012.
"Not bad for and old ladies' category, I suppose!" says a modest Lisa.
Soon after the f-lite boom began, Lisa took a step back, and the distribution partnership between herself, Thomas and inov-8 ended.
She says: "I had an amazing relationship with Wayne, it was like we were childhood friends who had grown up believing in the same thing.
"Things had just taken off in the US, and it was both wonderful and fun, but it was really busy and I wanted to take a step back and spend more time with my son (Carter) and family.
"At the same time the US business needed the likes of Robert Perkins (inov-8 CEO) and Gary Mennell (inov-8 head of finance). They joined in 2009 and have done fantastic jobs, taking inov-8 from strength to strength in the US.
"I (sales) repped the New England area for inov-8 for a couple of years after that.
"Now, however, I own a running store, which has a gym attached, in Milford, just down the freeway from the inov-8 office (in Southborough).
"I run the store and coach at the gym."
You can probably guess what the number one selling shoe brand at Lisa's Run Fit store is…

9 F-LITE RISING FROM THE ASHES
A night in a hotel bar that ended with Wayne Edy walking back to his room with no shoes on his feet provided him with the belief that the F-LITE range would succeed.
Having given away his trainers to US distribution partner and ultra runner, Thomas Mikkelsen, the inov-8 founder took a call the next day from an ecstatic Thomas, declaring the prototype f-lite the best shoe he had ever worn and he was not giving them back.
So when in 2009 the f-lite range – promoted as a stripped-back, lightweight, grippy mountain and trail running flat – failed to sell in decent quantity, Wayne remembered that night in a US hotel and refused to throw in the towel.
This, coupled with his own belief and love for the f-lite, meant he bravely persevered with a shoe that many would have simply written off.
As it turned out, it was one of the best decisions in inov-8 history. Shortly afterwards, the US functional fitness community discovered the f-lite, took it to their hearts, and as a result sales rocketed.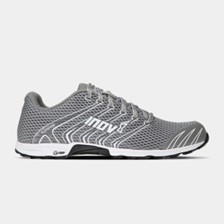 F-LITE
Having flung open the door to the US market, the range has not looked back, and is now one of inov-8's biggest hitters across the globe with 27 f-lite models in the AW13 workbook.
Wayne recalls: "I remember standing on the top of a mountain in Italy and watching a race where runners wore either road racing flats or trail type shoes.
"I turned and said to Graham (Jordison, inov-8 designer) that I had a vision to produce a new low-profile mountain flat with more surface area for European races.
"We went away and designed it together, taking inspiration from a road flat shoe but making it off road with a sticky rubber sole.
"The ideas were flowing and, as usual, Graham brought them to life with his drawings. It's safe to say my drawings have never been great!
"The first one was an f-lite 250 prototype, which was in my size, so after adding a softer shank, I wore it.
"I was in the US meeting our partners there at the time, Thomas and Lisa Mikkelsen, when I gave Thomas, a good ultra runner, that same prototype to wear.
"Thomas was the same size as me so I said, 'Go on, wear it'. "We were in the hotel bar at the time so, having given him my shoes, I walked back to my room bare footed! "Thomas rang me the next day and said it was his new favourite shoe.
"We met again and discussed the pros and cons of the 250. Using his feedback, as well as some fresh ideas I had, the f-lite 230 was born.
"We took it to market but sold very little. All the time, I continued to wear it every day – I loved and believed in it so much.
"I remember having a conversation with Graham one day and he said, 'If I was an accountant I would say that shoe is dead, drop it because the sales numbers are not there'.
"I thought about how much I loved it and how highly Thomas had spoken about it and decided to stick with it.
"It then started to get traction in the US, thanks to the functional fitness community discovering us, at a time when we were struggling for momentum over there.
"Lisa gave me a forecast on the f-lite, but I wanted to order more. I said, 'Double that number, in fact no, treble it'.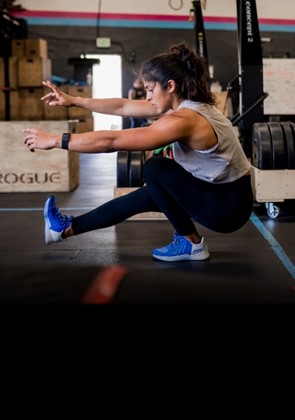 "She said, 'Stop it, Wayne', but I was adamant we had to get that shoe out there in high numbers.
"I ordered thousands. Everyone thought I was crazy.
"Six months later Lisa said, 'I wish we had ordered more.' So did I, we ran out!
"I took a huge amount of risk in regards of cash flow to do that, but it paid off.
"The functional fitness community across the world has gone on to embrace the brand. The f-lite suits their needs perfectly, plus I think they like the fact that they originally found us, not the other way around.
"I also still firmly believe that the f-lite is a great running shoe."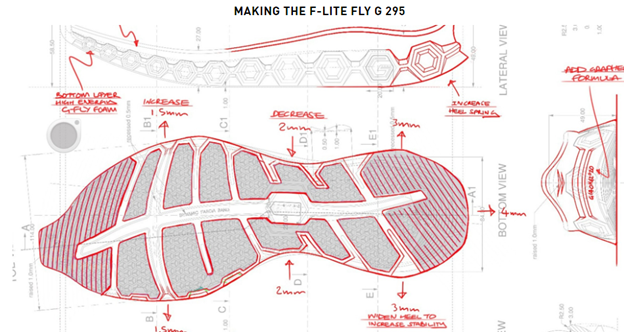 Graham adds: "I have to admit, I was easy as to whether we ditched the f-lite or not back then. But I also realised that, actually, for a hard[1]packed trail, the grip was there. It just didn't look like it.
"Functional fitness athletes picked up on that fact and the f-lite has gone on to prove itself in another way.
"The f-lite being picked up by them was a huge moment for the company.
"The US company was relying on support from the UK at that point, then we saw a huge growth in the US.
"At the same time Robert Perkins (inov-8 CEO) did a massive job in restructuring the business in the US (read story number 10 for more on this).
"The growth rate has been huge. You can definitely attribute that to the f-lite. Without it I don't think we'd even be talking about inov-8 in the US."
Lisa recalls: "I remember we sent some shoes out to a couple of guys who wanted sponsorship. They then demanded we send someone to a CrossFit endurance event.
"It looked frightening but I went. As it was, I found what they were doing was fascinating. I came back and said, 'We have to go to the CrossFit Games'.
"No-one else was paying any real attention to functional fitness at the time, it wasn't big then, but we did.
"On the day itself, it was announced there would be an 8km trail run as part of the competition, and organisers told athletes, 'If you don't have a pair of trail shoes, you better find some.'
"We had an inov-8 stand at the event and were selling f-lite 230s and x-talons 212s. Word soon spread that we had the perfect shoe for a competition that included a trail run. Not long after that we sold out of both models!

10 GLOBAL GROWTH
ROBERT PERKINS, WHO CAME ON BOARD IN 2009 TO HELP WAYNE EDY SHAPE INOV-8'S STRATEGIC PLAN FOR GLOBAL GROWTH, URGES AGAINST COMPLACENCY AS THE COMPANY ENTERS ITS SECOND DECADE.
Appointed as operations director by Wayne in 2009 and taking on the role of CEO in 2011, Robert has made a great impact since joining inov-8 but warns against complacency, saying: "Getting the brand internationalised is still very much work in progress.
"I'm probably best known in the business for the phrase 'global growth' and that remains the focus. "We have footprints in lots of places but they are relatively small footprints so the scope is still huge.
"We recently entered South America and Asia in a major way and there are lots of huge opportunities out there.
"inov-8 has come a long way in its first ten years and yes, I think Wayne feels enormous pride.
"Me, I feel nervous about taking too much pride in what we've done, partly because I worry that would lead to complacency.
"The challenges are enormous. It's very easy to look at the growth we've had and think it's been easy, but it has not.
"We've taken some risks and also moved at a pace that most people feel uncomfortable with.
"I am sure that if we had any degree of complacency we would fail, because the competition we face is so incredibly powerful.
"We are fighting big, powerful companies with massive resources. What we have achieved has been done so against all odds but we must never be complacent."
Robert, who has enormous experience in the footwear industry, had been friends with Wayne for many years before coming on board to help review, shape and implement the strategic plan.
"The company had established itself and was growing well, but I think Wayne felt it was time to have a fresh look at everything," says Robert.
"Wayne and I spent more than three months working to update the strategic plan. Out of that work it became clear that the brand's core strength was its ability to rapidly develop high-end innovative products for niche hardcore sports categories. The key issue was that the audience for these products, in any one market, was niche by their very nature. We needed to find these athletes at a global level in order to get the pairage up and make this product profitable. The key to the plan was internationalisation and global growth."
That planned growth included making a bigger impact in the US market, where the f-lite range was about to provide a launch pad for rocketing sales in the fitness category.
Robert says: "Wayne had previously set up a joint venture with Lisa and Thomas Mikkelsen, but the market was proving tough and the business was losing money. There were real doubts about whether we could make it work.
"The board held many meetings to debate our future in the US.
"We were struggling to sell trail running products in the US, but what really flicked the switch was the CrossFit community finding the f-lite 230.

"It was a shoe that wasn't selling, and many of us, including myself, felt should be dropped, but it survived many discussions because Wayne loved it and went with his gut.
"The sport, however, was very much niche, so there was a healthy degree of scepticism about how much commitment we should make to this relatively unknown, unpredictable market.
"Early on we didn't buy enough shoes and we were constantly short. Later, when we were more bullish for a period, we over-bought and ended up with too much stock.
"It became clear the US business needed more money to fund it. Lisa and Thomas weren't in a position to do that, and we didn't want to risk investing from the UK business, so we faced a real dilemma.
"In the end, we brokered a deal whereby Wayne would buy Lisa out. Lisa moved into a sales role for the business.
"For the next nine months I spent three weeks of every month in the US, developing the business there from its small but solid base into a fully fledged inov-8 business unit.
"One of the key players that came on board to help lead this change was Chris Melton (general manager US). Chris, with his background in recruitment, brought a host of talent to the business, helping us build an industry-leading team. His experience with other footwear brands contributed to retail development and his passion for functional fitness provided a key reference point for our US expansion. Without Chris I genuinely believe we would not have achieved the US's meteoric growth as quickly as we did.
"We invested in more stock, which allowed the business to grow, and integrated our B2B system, which allowed us to manage the stock. We became more structured about our sales process, introducing sales conferences and business reviews.
"Soon our premises on Southville Road (Southborough, Massachusetts) proved too small for our team of around seven staff and stock.
"We persuaded the landlord to give us an empty property two doors up on a short lease.
"That gave us more space than we ever thought we'd need in the short term. Sure enough, we have now outgrown that and taken additional space in Turnpike Road, which has enough office space to double the staff team."
Back in the UK, where inov-8 had just its office and warehouse in Crook, County Durham, big changes were also on the horizon.
Robert recalls: "We knew we needed more space, as well as a location we could easily recruit product people to, plus have a showroom where retailers would willingly come.
"Wayne and I debated London, Manchester, Staveley and even Boston.
"Having lived in Staveley for twenty years, I had watched the Mill Yard become a hub for outdoor sports brands. It ticked the boxes. We signed the lease in September 2011, and straight away started building a creative team, initially of product and marketing staff. We then extended into the unit next door when that became available."
A further major development followed in 2012, when ISIS Equity Partners completed an investment in inov-8.
As a result, ISIS' Mark Advani and Adam Holloway were both appointed to inov-8's board of directors.
Robert says: "Wayne had put everything into the business, even his own home, and when the banks stopped supporting business after the economic crash we knew we needed alternative arrangements to fund the growth. inov-8 had survived because in the difficult years when Wayne and I were trying to make bold investments, particularly in the US, Gary Mennell (inov-8 head of finance) skilfully managed the cash flow in a way that got us through it. I can't thank Gary enough for his contribution.
"It meant that by 2012 we had almost fifty staff and a big ambition. Realistically however, we were not going to be able to fund it on our own.
"I think there was fourteen private equity houses interested and one company that wanted to invest. Wayne, Gary and I went through lots of presentations.
"The company that was interested wanted to buy all of inov-8, but that was a step too far.
"In the end it came down to who we thought we could work with best. Ultimately, it was Wayne's decision, but he was very keen for Gary and I to have an equal say."
All three having agreed on the same decision, it was onwards and upwards for inov-8, a direction the company continues to follow as it enters its second decade.