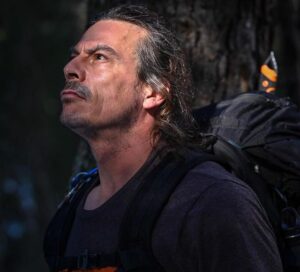 Adventurist Alex de Sain is a Greek-Dutch born in Sudan. At a young age he started travelling across the world. He has surfed the waves round the world, went on his SUP from Canada to Alaska and is planning for Winter 2022 to go on foot 480 km through Lapland .
"There's no such thing as bad weather, only bad clothing"
I was born in Sudan and spent my early childhood there. My Dutch father was stationed there and my Greek mother was living with her parents in a game park when they met. Most of my early childhood was spent with my grandparents and wild animals, while my parents were travelling through Africa. We lived pretty remote and my best friend was a monkey. I sometimes joined my grandfather when he was out protecting the animals from poachers. He transferred his love for animals to me and I cannot imagine my life without animals around me.
Fast forward to today and I can look back on a life of working and travelling all over the world, always following my passion in doing extreme sports. In my youth Taekwondo and BMX, the moving on to big surfing and now I'm proud to have on my resume are a few of the longest distance races on water. In 2018 I paddled on my SUP the Yukon1000, 1.600 km over the Yukon river from Canada to Alaska and in the winter of 2022 I will return to the Yukon to attempt the Yukon Arctic Ultra, a self-supported race on foot of 460 km in temperatures which can reach -50 °C.
When I plan next adventure, it takes me months to prepare my gear. If there's something I'm not sure about, I obsessively search on the internet and talk to my friends till I know for sure I'll get the right product . But you cannot follow blindly what somebody tells you, what works for somebody else, might not work for you or the circumstances you're in, but you'll only find out till you test it. So that's what I do, even though the circumstances might be different, I try everything. 
What I always enjoy doing is mapping out the route I want to take, I do it on paper as well as on my Garmin. It's great to visualize the route, by searching the internet to see if people have already travelled this route, their stories and picture. When I arrive I'll talk to locals and try to learn as much as I can from them. When I was staying in Whitehorse, preparing for the Yukon1000, I was lucky to meet a couple who had done the same route in a canoe the year before and they were happy to share their files. Also here I could not just follow their route, there are shifting sandbanks in the river from year to year, but it was a great help.
Then I'll sort out my equipment, like for this SUP trip it's the obvious things like my SUP and paddle. But we were going to travel through a very remote area and I had to take everything with me: Food, camping gear, an extensive first aid kit and I had to buy a bear-barrel to pack the food in, it's also great for when you would flip over because it floats! But it is very necessary in this terrain with so many bears. 
I wanted to have a few items close at hand on my SUP, right in front of me when I'm paddling. I have been searching for weeks till I found the correct box, which I then attached to my SUP. It exactly fitted all the items I would need in an emergency, like my satellite phone, first aid kit, SPOT and some quick things to eat. The last thing was actually for daily use, so I did not loose time having to open my bags, which were all strapped to my SUP.
For clothes I swear by my dry suit from Supskin. I did not even take it off for 9 days, it's so light, flexible and stretchy. With so little time to sleep, you don't want to waste time taking your clothes off on put them back on again. So I slept in the suit every night for a couple of hours, got up, made something to eat and went back on my SUP. 
The journey was incredible, but also dangerous. One time I woke up to find bear prints around my tent, and I had not heard anything that night. Which I'm glad I didn't! I have no idea what I would have done when I would hear a bear walking around the campsite. Some Americans in the race thought it was hilarious that I had a can with bear spray with me. They unpacked their rifle and said: This is how you protect yourself! Well, that's not the way Europeans do it, but when you see the size of those bears, maybe next time I would have to go American style!