Chamonix in France is an amazing place. It was first explored in 1741 by two Englishmen and their stories attracted more people to the valley. In 1786 two local men Paccard and Balmat made the first ascent of the Mont Blanc. In 1924 Chamonix hosted the first winter Olympics. All kinds of outdoor sports like climbing, (mountain) biking, skiing, snowboarding and trail running are a few of the things you can do here. It attracts a great amount of outdoor lovers from all over the world and lots of people stay and make it their home.
Ben was born in Chamonix, his parents are from Canada and they came to Chamonix about 20 years ago to start a bar. His dad has now a different bar and a brewery in les Houches, in the Chamonix valley. At 17 years, Ben has the potential to one day compete with the best mountain bikers in the world (and is still looking for sponsors!). He's a skier as well and I spoke to him about life in Chamonix and the gear he uses for his sports.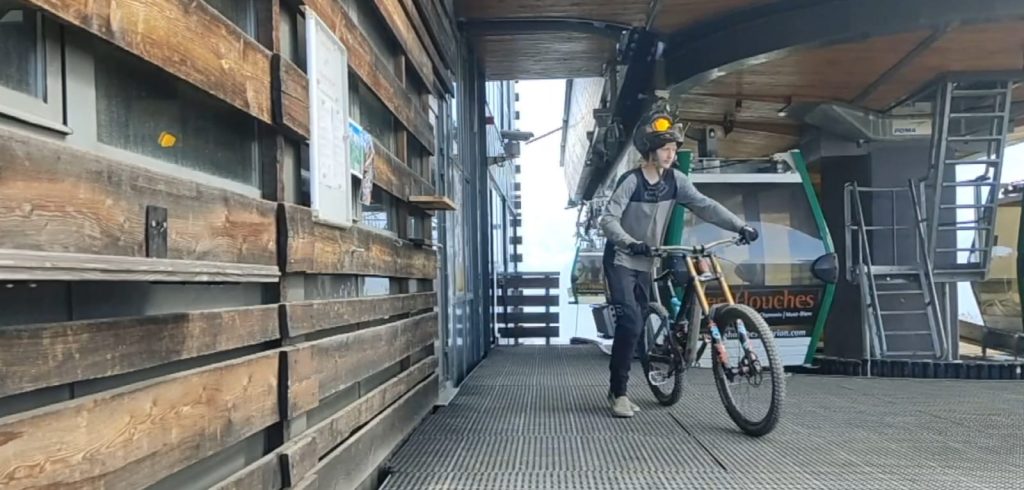 There are so many different sports you can do in Chamonix, how did you end up doing these?
I found the sports I'm happiest with, I really like going fast and being on the line of like, almost dying. I'd rather do something like that than climbing up a rock face, it's slow, it hurts my fingers and it's scary if you look down. But with biking, I can just ride along, I have crashes, but I just get up and continue, same with skiing. I started skiing in primary school, but I started properly skiing and mountain biking about 5 years ago, when I was around 12 years old.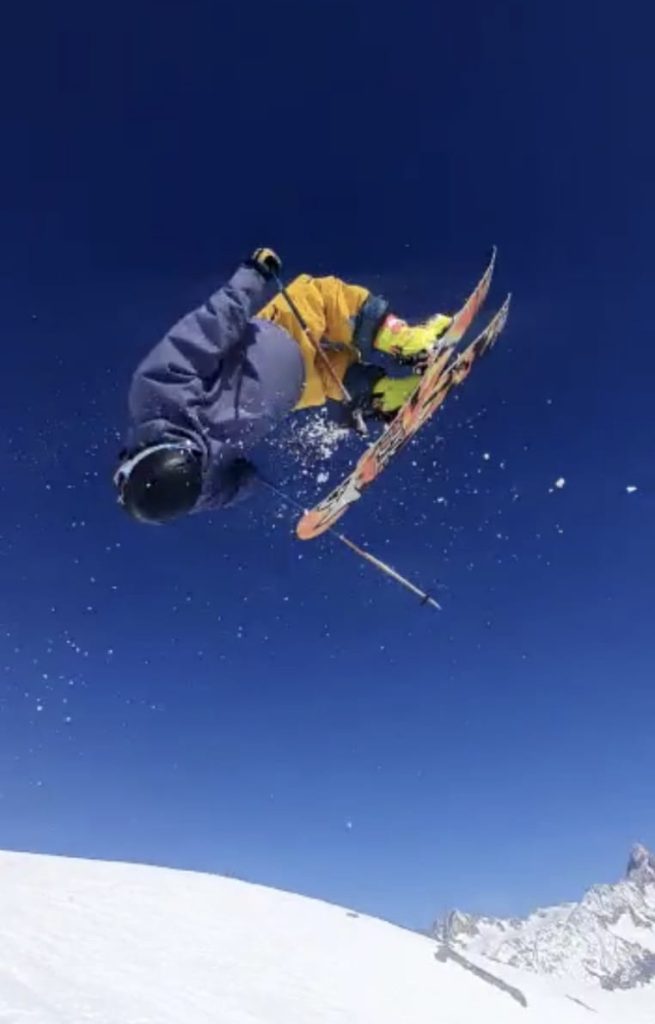 Can you tell a bit more about biking in the valley?
Here is not like most bike parks in the Alps, the pistes aren't flat and they are very steep, there are no beginners runs, it's mostly freeride, so nice thin technical steep tracks in the trees, which is most fun and very rewdy. People who have been here have said it's really good for training because the pistes aren't like anywhere else. They are very steep, they are diagonal, you don't need to slip off or you'll fall, you keep the highline, the dirt isn't like anywhere else, it's nice and soft and rewdy. I grew up here and I'm used to the terrain, but I'm still scared of a lot of things to do here. If someone came here who isn't from here, they might be surprised by the terrain, how difficult it is, because even the blue run at les Houches, is like pretty difficult, compared to other blue runs in France.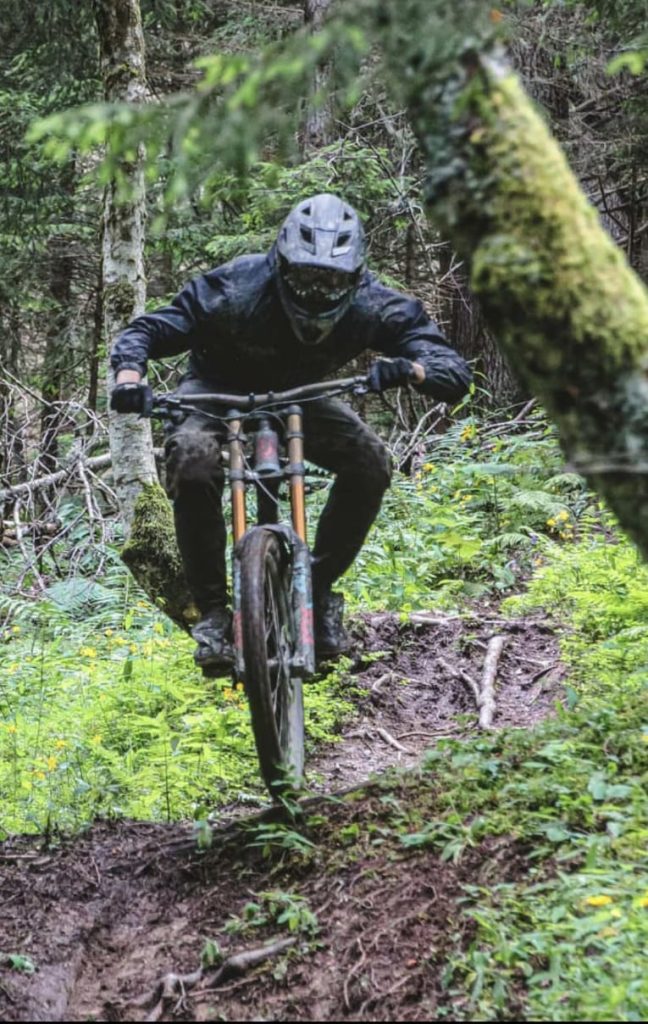 "A lot of very good mountain bikers come to Chamonix, because they've learned it's not like other bike parks and you find you can just train here. But I think I'm pretty good for my age and I'm better than all of my friends" he says laughing. But it is serious business for him. He has been concentrating on getting better and this summer (2022) he wants to enter competitions.
What category of mountain bikers do you fall into?
I'm in the downhill mountain biking. I take the lift up and ride down and do that all day. The most amount of suspension possible, no slack, a nice stiff bike. This sport is rather undeveloped here, it's just a couple of pistes, one black run and one red run at le Tour and three red runs and a blue run at les Houches (these are all in the Chamonix valley, at opposite ends). The colors indicate the levels of the
pistes that you're doing, it's the same as with skiing. But most of the runs I ride are freeride and private. I'm more interested in racing, I love jumping, but I'm not on the trick side, I like going fast.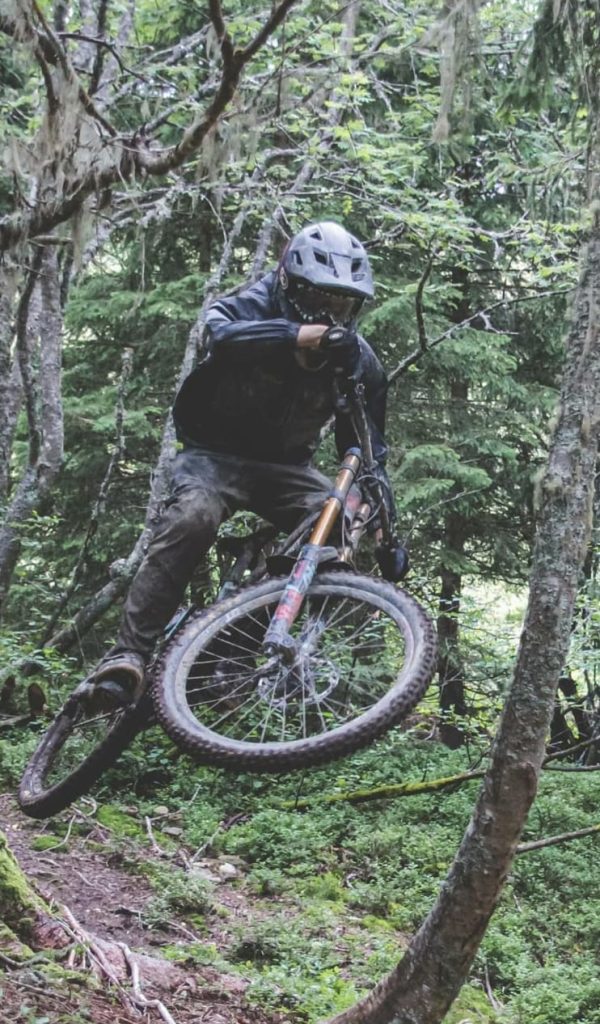 For somebody who wants to get into this, what gear do you need?
Mountain bikes aren't cheap, a good beginner bike you can find for like a €1.000, but a couple of years old is not the best equipment. Acona, one of the base models, cost around €10.000 for a new one. You need front wheel and back wheel suspension. What else I have is a Fox rampage helmet, my Scott or Fox goggles, with some Fox jerseys, my back protector, some Fox pants, kneepads and clip in Shimano shoes, I clip those in to my downhill mountain bike to go faster. I have one mountain bike, a Mondraker Summum, the pro version. I worked all summer at my dad's bar, washing dishes, to pay for it.
No fear?
Not really, if it's something new I haven't done and it's big I will be scared, but I usually, if it's not too hard, I'm the first of my friends to try it.
Who do you look up to in this sport?
Loic Bruni and Laurie Greenland are my 2 favorite. Loic is from France and Laurie is from the UK and has bike rided in les Houches before. Countries which are very good for riding are the countries with big mountains, usually Canada, USA or France, England, Spain, Italy, Switzerland or maybe Germany.
In 2 or 5 years' time, where would you like to be?
I don't think I can get anywhere skiing, because last year with Covid, I haven't been trying that hard, but more having fun with it. In mountain biking I'm actually progressing a lot and have been going faster and faster and I really think I have a chance to do something with it. I train mostly in the valley, I've been to Elevation once, but that was just to do some tricks and get learning tricks on the bike, like learning a backflip and flat landed on my own dural bike in the foampit, but that's not something I would do or want to do instead of racing.
How much time do you spend training?
During the Summer holidays I usually ride almost every day, with a couple of breaks, 3 days riding 1-2 days break and I'd work nights. But if I have school, the first month of biking season and the last 2 months I have school, so I just ride on the weekend.
What about winters, when the tracks are covered in snow?
I just go skiing with my friends, all the time. During Covid last year we built our own jumps (The lifts were all closed that year) and sometimes I walk up with my skis, randonnez, with my friends for a couple of nice runs in powder. But most of the time last year, we either built a rail or jump. Now the lifts are open and I'm doing mostly back country freeride, big drops and natural features, but I also like the park. I prefer more slopes, big rotations in the back country and jumps which are natural.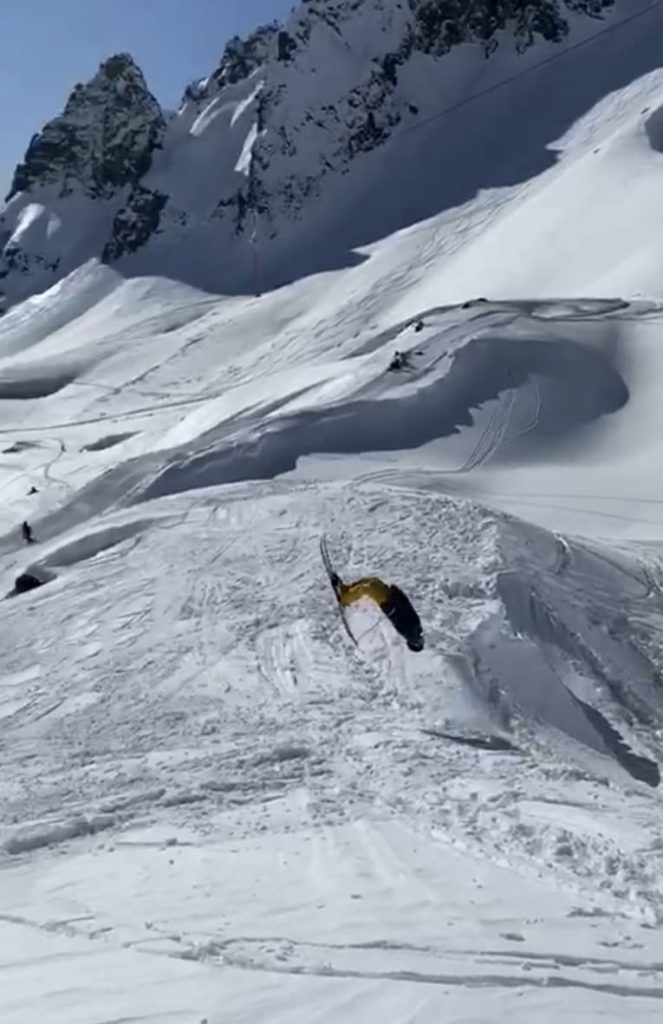 What's the gear you use here?
I love back country skiing in powder, so I have a really wide pair of skis. I used to have some Atomic Ben Chetler's of 120 width and I've got some K2's which are 118, so it is a tiny bit thinner and my old type ski was powder, but fixed towards the trick sides, so the bindings were mounted in the middle of the ski.
But now I'm more on the freeride style, so my bindings are further back and I have less of twintips, just for more speed.
How often to you need new equipment?
"Whenever I break it" he says laughing. Hopefully I get new gear every year, clothes aren't that important because they are just clothes, but when it comes down to ski boots, skis or helmet, I really like having new gear, but I can't afford it.
Who are your idols in skiing?
Stinius SkjØtskift, Henrik Harlaut, Alex Hall and Nick McNutt. Their flow and steels are very stylish, you can see that when they ski even when they do massive tricks, they make it look so easy, their skis are always in form, they know exactly what they are doing in the air and that's amazing to watch.
What are the best spots in this area?
You check when you wake up where's the best place to go that day. One day it will be 10 degrees, the next day it might be -20 (degrees Celsius). When you go above 2.000 meters, above most mid stations, it's really nice and hot and sunny and the snow in the morning is very icy, but once it warms up in the afternoon it's really fun and slushy. But the higher you go, it's either just frozen or powder, if it hasn't really touched the sun, or it gets sun earlier in the morning or if it's high altitude.
Where do you see yourself in a few years?
I don't think I have a very big future in skiing, I might have a bit of potential, but my true strong side is mountain biking and I hope I can do races this summer.