Erden is the definition of a global citizen, born on Cyprus, raised in Turkey, who studied and worked in the USA, got married in Alaska and travelled all over the world with various expeditions. He is a mountaineer, cyclist and rower, all done to the extreme. And then his mammoth expedition: Becoming the first person in the world to complete a solo and human powered circumnavigation, finishing in July 2012, after more than five years. He has his own Wikipedia page with a long list of his records.
You left the corporate world at age 41 (according to Wikipedia), how did you come to that decision?
The loss of a friend while rock climbing together in September 2002 was the turning point for me at age 41. His name was Göran Kropp; he was known for his 1996 climb of Everest after bicycling from Sweden to Nepal, towing a trailer full of his climbing kit.
While working as an engineer in a software development lab in 1997 in Silver Spring on the beltway of Washington-DC, I used to stand in front of a world map on the wall which had the Pacific in the middle, Americas on the right and the old world on the left. I traced my finger across that map from DC to Turkey and wondered "what if?" Could I do this journey by human power? I even gave it a name: "Journey Home."
I quickly learned that not everyone needed to know; almost everyone was asking whether I had done anything like that before! Books never said no, so I began reading about those who had done similar journeys. One of the titles that I picked up was "Ultimate High" about Göran's journey. Tracing my finger on that map was easy; I could just as easily continue west to return where I had started. So, the idea evolved into a human powered trip around the northern hemisphere which became a quiet obsession.
I met Göran when he visited Seattle during the summer of 2001 for a presentation. When I shared my ideas with him, his first two questions to me were: "when are you starting" and "do you have any sponsors?" We ran into each other again in Ouray in Colorado during an ice climbing trip following winter and promised to climb together. He was moving near Seattle…
When Göran fell to his death, there would be no more excuses and I committed.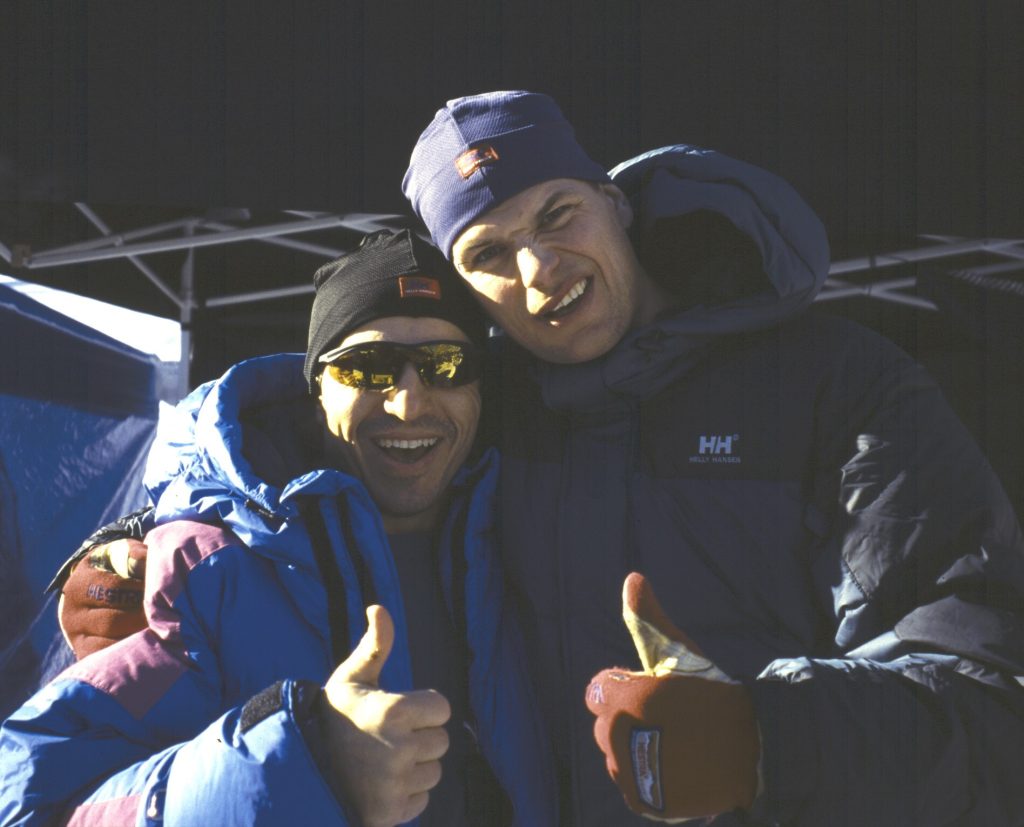 Erden and Goran in Ouray, Colorado, January 2002
Were there any moments during the 5 years on the road, when it got really dangerous, that you thought: Why did I do this?
The most dangerous thing that I did during my journey around the world, was riding my bicycle on the roadside mixing with fast moving vehicles each one of which could have had a distracted driver behind the wheel. Oceans and mountains challenged or sometimes surprised me, but I had planned, prepared and trained ahead of time in anticipation. Managing risks requires forethought, knowledge, skill and wisdom each gained and reinforced over time; it is not accidental that I succeed.
What stresses me most is the financial burden that I have created on our family budget. I question whether to press on with my remaining projects; only then do I ask myself why I did this.
How did you go about finding funding for your expeditions? How difficult is it to get sponsored?
Funding has always been a challenge in my projects. By the time I completed my circumnavigation in 2012, we had spent about half a million dollars half of which came out of our family retirement funds. Donations provided some relief which also allowed our 501(c)(3) nonprofit Around-n-Over to commit about 100,000USD toward educational projects, primarily to support boarding students at elementary and middle schools in rural Turkey.
As I get older, I feel the pressure that time is running out before I can attempt the remainder of my long list of aspirations. I figure I have another 10 years of serious expeditions in me then I may attempt variations to the "oldest person to do whatever" sorts of records. Lack of funding slows me down; I should be on a major expedition every year but that unfortunately is not happening.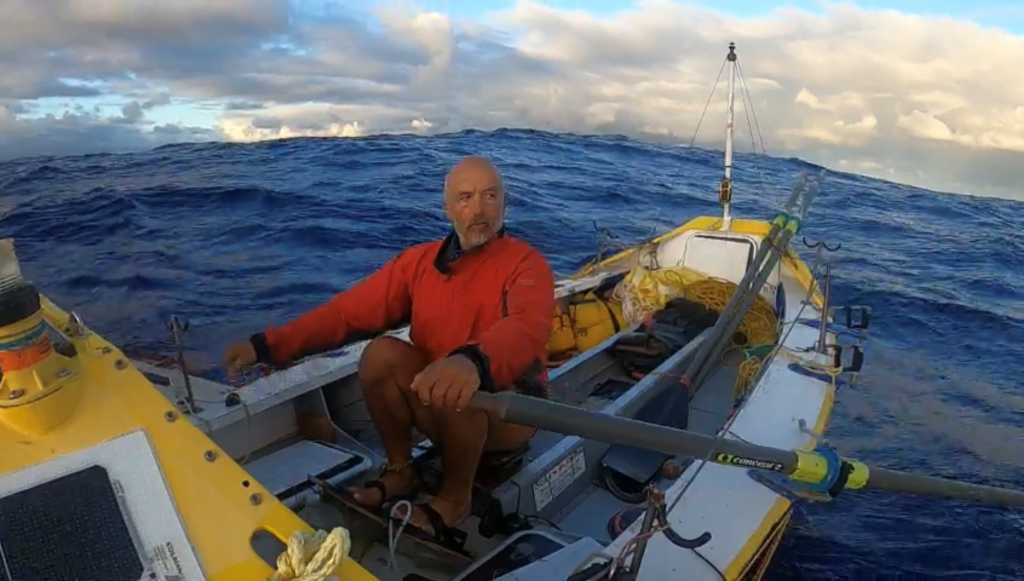 Rowing in swells between Hawaii and Guam
The running joke, somewhat cynical, in our house is that I am exploring the minimum required in number of Guinness World Records before sponsorships materialize. By the time I finished what was certified as "the first solo circumnavigation by human power" I had established 15 distinct Guinness World Records and historic firsts, including the first person to have rowed the three major oceans. On my recent Pacific crossing from Crescent City in California to Legazpi in the Philippines, I also claimed the records for career totals in days (1,168) and solo nautical miles rowed (26,700M). First person to row across the Pacific Ocean from North America to Asia, may also be registered given that the Philippines is an Asian country.  Upon certification, I may have 17 or 18 records, depending.
At this point, the minimum threshold of records for sponsorship remains elusive. Is it going to be 20? We shall see…
What is there still on your list to do? 
Göran's accident happened in September 2002. That November, I went to Stockholm to attend his funeral. On the flight back, I sketched the world map on a piece of paper, the proverbial napkin if you like. I marked the highest summit on each continent except Antarctica then pondered if I could link these by human power during my circumnavigation.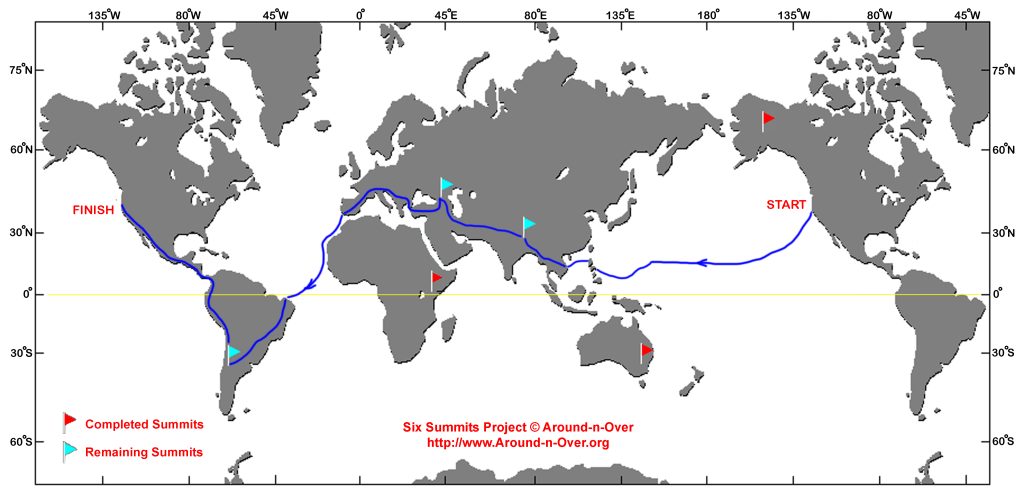 The first summit to reach from our home in Seattle was Mt McKinley in Alaska. I began pedalling north on 1 February 2003, towing a trailer full of my climbing gear like Göran had to Nepal. My bicycle had studded tires as I faced winter conditions in British Columbia and Yukon. Two friends joined me to walk the length of Kahiltna Glacier to base camp where two more team members flew in with supplies. We summited on May 29.
I walked up Mt Kosciuszko in Australia in April 2010 and climbed Mt Kilimanjaro in Africa in June 2011. My wife Nancy Board was with me on both of those mountains. I had to skip Everest and Elbrus as sponsorship became impossible after the 2008-2010 financial crisis. I skipped Aconcagua and focused on finishing the circumnavigation in 2011-2012. Our budget deficit was by then over $200k and extending the journey only would have made it all more prohibitive. So Everest, Elbrus and Aconcagua remain on my short list of mountains to reach by human power then to climb.
On my recent row across the Pacific Ocean to the Philippines, my goal was to find a way to the foothills of Everest. Without proper funding, I was postponing and coming up with excuses much like the way I had delayed starting my circumnavigation until tragedy struck with Göran's fall. This time, the pandemic had become the convenient excuse holding me back. In the end, I resolved that I would not wait for another tragedy to strike before I committed toward the remaining summits. Our meager funds and donations from a few longtime supporters enabled my Pacific row.
My rowboat is in the Philippines now. I will return there after Christmas, prepare in January and row across the South China Sea in February. Once I reach Vietnam, I will pursue a visa for each country through which I will bicycle on my route to Portugal.
I will skip Everest again. I have yet to gather any gear for Everest, to decide on a route or to apply for a permit. These all mean a significant lead time and cost. Elbrus inside Russia by their border with Georgia will be the next summit on my list, but even that is in question now given the war in Ukraine. I will make my final decision about whether to enter Russia by bicycle after I reach Azerbaijan.

Arrival in Legazpi in September 2022
I hope to reach Portimão in southwestern Portugal by October 2023. I should depart from there by rowboat before November and reach British Guyana around February 2024. Reaching the foothills of Aconcagua, climbing it will precede my overland trip north back toward Crescent City…
Do you have people who inspire you?
My wife Nancy Board inspires me every day with her deep well of optimism, resilience, and soft skills.
British adventurer Jason Lewis inspired me as I watched him return to his circumnavigation by human power year after year. He would return, work to save some money and apply it to advance his journey. He took 13 years to complete what became the first circumnavigation by human power. Nancy joined the welcoming crowd at Greenwich in 2007 when Jason finally finished his circumnavigation. I called Nancy by satellite phone from my rowboat on the Pacific Ocean and asked her to put Jason on. I will never forget that despite all the festive hoopla surrounding Jason's arrival, he took the phone and chatted with me.
What is your advice for the next generation of adventurers?
Surround yourself with good people and those who will challenge you. As you pursue your dream, the faces around you will change. The cynics will not attend your sendoff.
As Joseph Campbell says, as you pursue your bliss, there will be invisible hands that will open doors ahead of you which you did not know were there. Those that you need will appear on your path. Trust the process.
Remember that you will outgrow your fears and doubts as you negotiate the uncertainties. Aim high, dream big and do not clip your own wings. When I began my circumnavigation, I did not know whether I would one day complete it. However, by the time that I did, I had become the one who would establish historic firsts and set 15 Guinness World Records. I had to change and grow into that one person.
https://www.linkedin.com/in/erdeneruc/recent-activity/posts/
https://www.instagram.com/erdeneruc/?hl=en