INTERVIEW WITH JANNEKE SMITS
Janneke Smits performed well with rafting at European and World Championships, but has performed extremely well in her SUP career: She holds the World Record for Greatest distance by Stand up Paddleboard on Flatwater in 24 hours by a female, 2 times Dutch Champion, she has won the 11-city tour, she's won the non-stop of the 11-cities tour 3 times and the Dordogne Integrale a few times, but also the 10-year anniversary of the race with a distance of 350km. She used to have a SUP school, has now a SUP shop, published a book, founded with 2 others the SUPclean-up foundation and is going to paddle the Yukon1000 this year, 1.000 miles from Canada to Alaska, a race so dangerous, you can only do it as a team.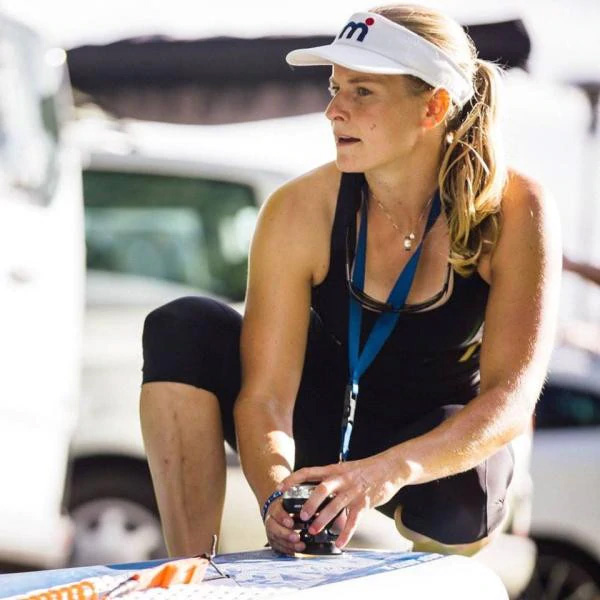 Who is this super woman??
You grew up on the water?
My parents lived on a houseboat, they had a towing company, which was very convenient for them because it enabled them to bring the boat home. I studied sports education, during this I did sports training. The water sports, like diving, white water kayaking, swimming, those were actually always my favorite parts. That's been a bit of a common thread my whole life.
Where did you do the whitewater kayaking and rafting?
Abroad, Slovenia, many times in France, in the Ardennes, with the Dutch rafting Team we went further afield, we did a World Championship in South Korea, World Championship in Bosnia, European Championship in Austria and the  Dutch championships were always in France.
What's rafting like in South Korea?
South Korea was an experience itself, you enter a certain culture that I'm not familiar with at all, so that was just really nice to see. You also have an international field of participants, which is a very diverse group. The conditions were from almost nothing to pretty extreme because in the last night before the down river competition, which is actually the longest distance in the race, there was a lot of rain, so the water level had risen enormously, then the river changed from a relatively calm flowing river to a pretty swirling mass, so for us that was a bit different than what we were used to.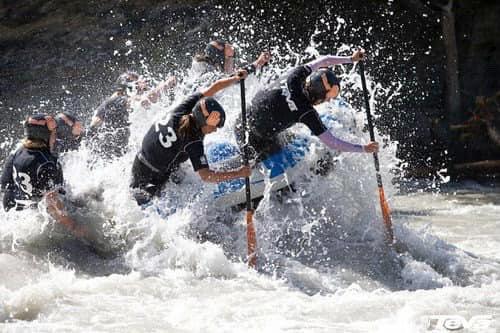 Did you perform well as a Dutch team?
Not in South Korea, but in Bosnia, where we became World Champion Sprint. But finally on the down river we were in the wrong heat, so one of the stronger opponents was in the heat after us and therefore did not have to fight as we did. Because of that they finished just a little bit earlier, otherwise we would have won also that event. So in Bosnia we performed well, but then we had also been training two years longer, so you're better adjusted to each other.
Do you still do it?
No I stopped 12 years ago but three years ago I was actually spontaneously asked once at a Dutch Championship in London, it was on an artificial track. You don't forget, you know right away what to do to steer the boat and how to turn it and how it runs in the team, so that was just a lot of fun.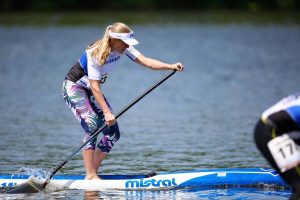 You got into supping, and started competing as well?
In 2013 the Dutch championship consisted of a few races and in 2014 I paddled my first SUP 11-cities, the 5-days one (220 km). In 2016 I did the SUP11 city Non-stop for the first time. That's where my interest for ultra long distance races started. In 2017 there was the Triple Crown, it was the Dordogne Integrale, the 24-hour race in Spain, only that was then reduced to a 16-or18-hour race because of the weather and the non-stop in the Netherlands (220 km). That was a lot of fun!
From there you started looking at the 24-hour race in the Guinness Book of Records?
Back then not so much, first Seychelle set the record and then Joanne. Patrice from 3Bay asked if I wanted to make an attempt to break the record and then I thought, well that's nice to try. With a whole group of 3Bay, he organized the race, or at least the record attempt in France.
That was with Dode Florent?
Yeah, that's right. We both broke world records then.
How did you prepare for a race like that? You can't just do this out of the blue.
Yes and no. I had paddled the Dordogne Integrale a few weeks before. I already had the non-stop in my arms from that Triple Crown and the 24-hour, or well, 18-hour race in Spain, but I do believe that your muscles, the muscle memory for those ultra long distance races, is an important one. I didn't get to train very much for that 24-hour record attempt because I was just too busy, so it was kind of on good luck.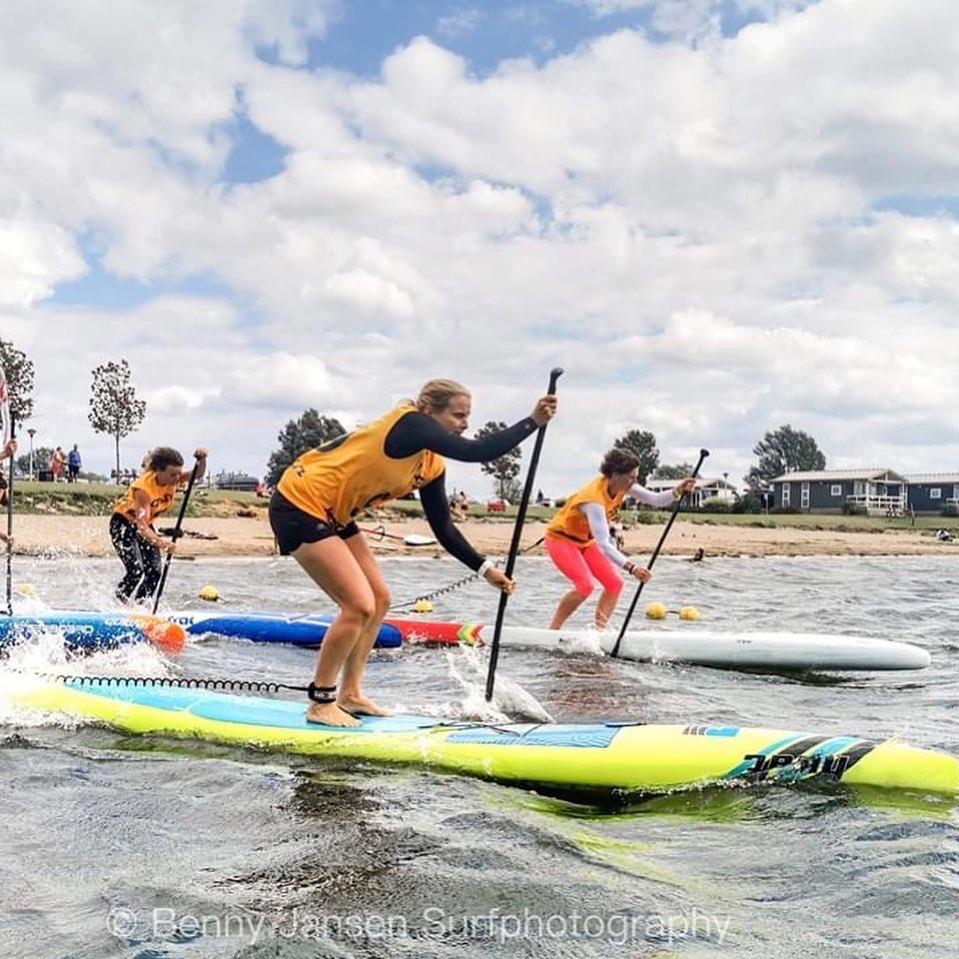 Where was the race?
Lac de d'Aiguebelette, near Lyon.
How do you get through such a race?
A race like that takes quite a long time, you have to put your mind at zero. We had a heat wave those days, so I had to jump into the water somewhere halfway every lap and I often jumped in at the jetty. The heat was a challenge I wasn't trained for, or at least, that kind of heat I was less familiar with. Albert (Grossguth) was there with me as a buddy and for support. He supported and took care of me, water, food and keeping track of time, pushing me to go faster when needed.
Did it change your life, once you had broken the record?
Something more has to happen for that. But you push your own limits and I just find that very interesting. It's not exactly fun to paddle something like that, I think that's not the case with these very long distances anyway, but it's the whole experience around it that makes it so special. With the 24-hour record attempt, it was the French SUP family where you're included. You're all in one house, you eat together, those are things you never forget. The race itself, you have to make quite an effort for something. I think I went pretty deep with this record attempt, also because at the end I was on the edge of  'will I make or won't I make it'. But then again, you're not paddling for 24 hours and then just not making it. But that risk is there and you actually only know in the last half hour or maybe the last quarter whether you've made it or not. That makes it exciting. I do think it makes me stronger, especially mentally.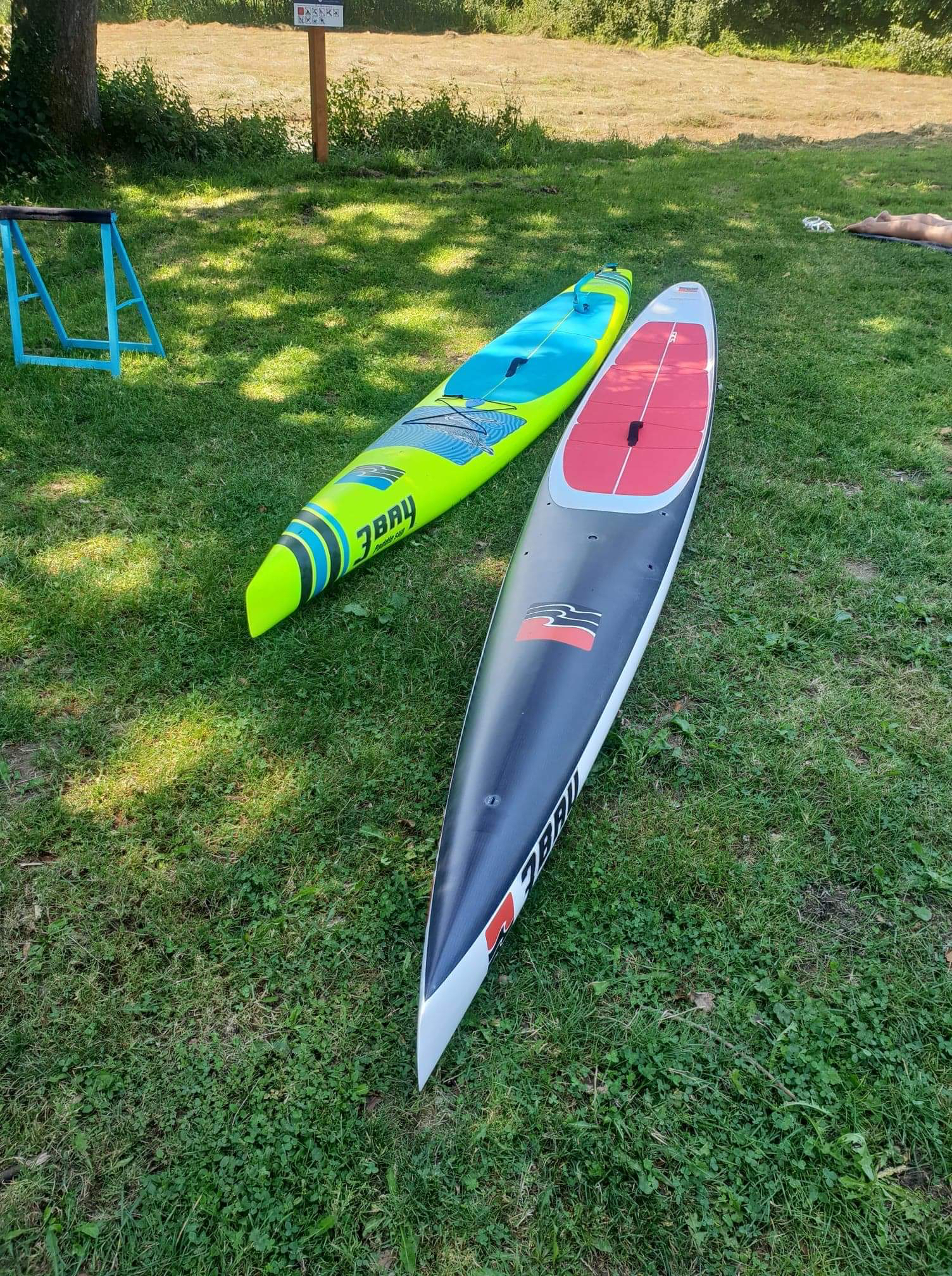 Can you do such a record attempt on any length board?
There are no rules set for that, imagine if I make a record attempt now on an 18-footer, you're most likely going to get the 14-foot time out and then a new record will be set on an 18-footer. I don't know if they're going to look at that very much in the end, but it's fair play if the old record is on a 14-footer, to then also try to break the record on a 14-footer.
If I've been able to break this record without too much training, practically no training, but if I had trained hard, then I could have had a longer distance. But every time you break a record, it becomes harder and harder for the next person to break it, because circumstances can be different every time. We had pretty windless weather, which was kind of nice. I know Joanne (Hamilton) on her record attempt, she had to stop because she had some weed under her fin and I had to stop because I had to go into the water to cool off, so yeah, the circumstances, they're never going to be quite the same.
How do you recover afterwards?
The last 1.5 hours, then I really had to give everything I had still left in me, otherwise I probably would not have broken the record. I used to laugh at the professional tennis players, when they give such a scream when they whack the ball, but at that point I was doing the same thing  to keep enough power in every stroke to get my speed up and keep going. You have broken hands, your whole body hurts, but you just don't realize it when you're still paddling. We had started at 9 in the morning, then 24 hours later, when I heard the church bell I knew we could stop paddling and, in my head, I thought I was still pretty fresh, so I said to Mathieu (Chevalier, for his record on a prone): Shall we swap boards? He asked if I was sure. I said: Yes yes, I just paddle back on your board. He said okay, that's fine, so we had swapped boards, I wanted to climb on his and I fell off on the other side, I did that again and then I thought holy shit, I have absolutely no control over my body anymore. So I climbed back on my own board, but I couldn't stand up anymore and then I saw Albert paddling towards me and he gave me a tow to the jetty. But yes, your whole body, everything hurts, you can hardly stand properly. So that was a tough one.
What did you eat during the race?
I didn't take things with caffeine, I do know that they had sausages at one point and I really liked that. I also thought there was pizza, but I'm not 100% sure anymore. I actually do a lot on a peanut butter sandwich, that always works for me. And pancakes, that's pretty much my endurance food. And then once in a while a banana. But mainly the peanut butter sandwich. And nuts with a touch of honey.
Do you use any dietary supplements?
Water, preferably without flavors or additives and sometimes a bottle with Tailwind. That's a powder with energy and things like that. That's the only thing I use. So far, all those races have gone pretty well for me without me having to do very crazy things with food and stuff. I know how my body goes on a peanut butter sandwich and pancake. It shouldn't be very sweet stuff, then I get very faint at a certain point. Bread can be almost too sweet. But I have to say, with the Non-Stop race I ate fresh apple pie and butter cake at the very end, then you have that fatty snack. It gave me enough energy to complete the last part of the race.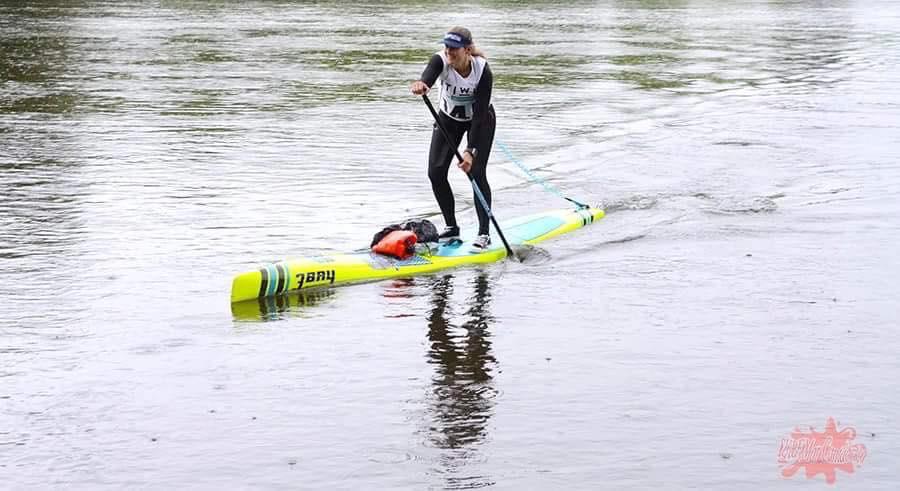 Then in June you're off to Canada for the Yukon1000, together with Ella. How do you train towards that? How do you select your gear?
Let me preface by saying that you (Alex de Sain) have already provided a lot of information and are willing to help, that's already a big plus coming from somebody who has done the race already. On personal level, it's important that Ella and I are on the same page, but I'm not too worried about that. I don't want to be at the start of the race stressed out, I want to be completely relaxed, both physically and mentally. I don't want to arrange everything last minute even though I'm very busy in the Netherlands. We will fly to Vancouver 2 weeks before the race and then to Whitehorse a few days in advance, just to be able to prepare things and, if necessary, be able to buy the last things.
Besides all this, you clean up canals in the Netherlands, how did that came about?
At a certain point I was paddling a city tour in Gouda with a group for my supschool and we were paddling through garbage and I felt embarrassing and ashamed. So I decided to see if I could come to an agreement with the municipality, because I'm on the water anyway, I can keep it clean in the most environmentally friendly way. So I submitted a proposal, which was under the heading "Right to challenge", which means that a municipality facilitates the right to challenge, so you may challenge the municipality in certain activities or tasks they perform and you think can be done better or possibly something new.
Waste processing company Cyclus had to keep Gouda clean. The water was a challenge, they have to go out with different little boats and always 2 people there, certain preparations with life jackets and other protective clothing. There are quite a few requirements for that, so the water was not their priority. We had first some kind of test phase, because the municipality was positive about my idea and then Cyclus were like: Yes, you can indeed keep it clean in this way, so since then I've been commissioned to keep the water in Gouda clean, and this was extended by another year, so they are happy with it!
In 2019 I set up the SUPclean-up foundation with Aukje Postma from Friesland and Isabella Diederich from Amersfoort because I finally thought, what works for me might also work for other SUP schools. We organize free SUPclean-up events with other SUPschool but also clean-ups as a "green" business activity for companies who would like to go out on the water with us.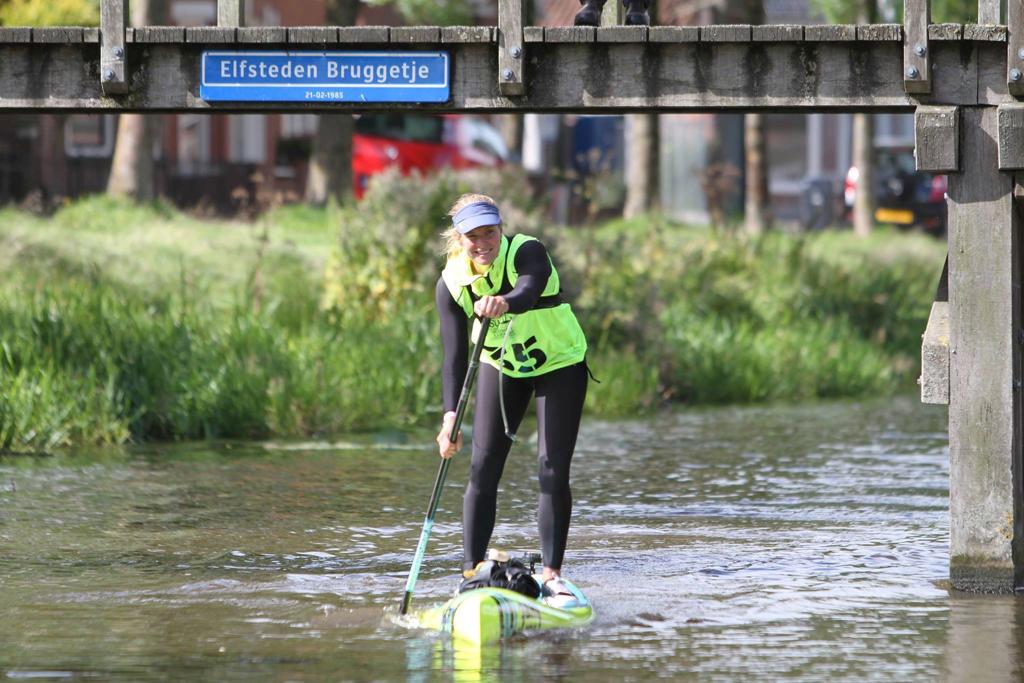 You are also concerned with safety on the water, what advice can you give beginning Suppers?
Your leash is your first safety line, the number 1 for your own safety on your board.
Look at the weather. I think weather is very important to consider, that you don't end up in very unpleasant unexpected situations with cold or thunderstorms or too much wind.
You should be well prepared with your clothes, take water with you, possibly some food with you.
That you do not end up in a situation where you yourself physically or possibly mentally get  in trouble or where you have to fight with Mother Nature, because it can still sometimes surprise you.
What can you recommend to people who are not so active yet, but want to become so?
I would start by renting a board instead of going to a supermarket or hardware store and buying the first board you see.
Take a lesson, so that you learn the right techniques and that you gather information about what you might want to do.
Grab beautiful natural areas, or if you like cities, grab nice cities to paddle in and whether I'm in Gouda on the water to clean canals or I paddle in the Weerribben to clear my head, I like both, it never gets boring.
Can a beginner get discouraged when starting on a board from the supermarket?
You certainly can. Meanwhile, there are countless good brands. I have a shop where I have about five brands that I support in terms of quality and service. There are also B-brands, for a smaller budget, which offer boards you can have a lot of fun with. But there's also absolute garbage to be found with thin boards, which are limp, where you stand with your ankles in the water, that's not going to make your experience with supping any better. That's a shame, I think the chance then is pretty big, you won't  like it, if you at least have better material, you don't run that risk.
What would you still like to do?
I think that SUP can contribute a lot to young people, to improve the mental health of people, to clear their heads, or to have a good conversation with someone. That may be something for the future.
And if there are fun and challenging races, then I'm in for it. I think!
https://www.instagram.com/jannekesmitssup/?hl=en
https://www.supboardshop.nl/nl/service/about/
http://www.supcleanup.eu/wie-zijn-wij/
https://www.bol.com/nl/nl/p/let-s-sup/9300000064448845/?Referrer=ADVNLGOO002008J-G-114976573117-S-867589927852-9300000064448845&gclid=CjwKCAjw7cGUBhA9EiwArBAvok40cSIAul1lb2sZ4rf_VBhN4WV5mxfBAzTiNKXE2QRv2W0ervYdnRoCprYQAvD_BwE